Meet Millie Knight, the skier aiming for gold at the Winter Paralympics
At the Winter Paralympics in Sochi back in 2014, Millie Knight was just 15 years old and only allowed to compete in two events. At PyeongChang 2018, she's hoping to compete in all five events and win some medals along the way. Millie spoke to Danielle Sellwood, at the Ellis Brigham Snowfest, about her progress over the past four years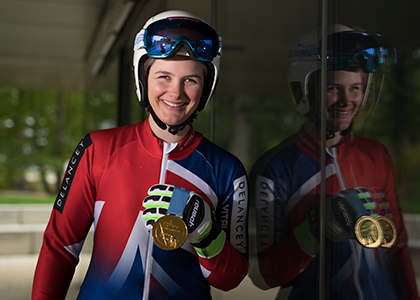 Photo credit: Jason Dodd Photography
Teaming up with a new guide:
"I've had a fantastic four years since Sochi, but over the last two years things have really shifted since I started with my new guide Brett. It's been really amazing, we've won a few World Cup globes and then winning the World Champs this year was incredible. It's a partnership that works really well, despite still being fairly new. Some of the most successful partnerships have been formed over many, many years and it's definitely a massive help to have those miles in your feet. "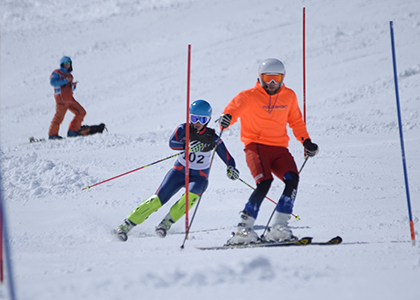 Communication
"I only have peripheral sight, and can only see 2 metres, so when I'm skiing I'm only really seeing the orange vest of my guide. I rely on the audio comms I get from Brett… I rely very heavily on those, and we have amazing communication that is not necessarily spoken. There are loads and loads of things within a split second that he picks up on. He can tell whether I am scared, when I am confident etc. just by the tone of my voice or my breathing. He's very intuitive like that."
Pre-race preparation:
"Every race we do, we prepare with an inspection run. We go down really slowly so I can get to know what the terrain is like and what the course is like, the changes in direction etc. I talk it through with Brett and he'll tell me what he's going to say at various points too, so that's such a vital time for us. For the downhill you get two inspection runs and two training runs because it's obviously more critical to get that right.
All this preparation is critical for me, I need to feel ready at the top because for me psychology makes up about 80% of my performance. It's so important. I'd say it's the difference between being able to get down the course and not."
Recovering from concussion:
"I've just recovered from a massive concussion which was pretty tough. I had a crash in January at the bottom of the World Championship course where I won gold, it was after I'd gone over the finish line, but it was OK. The problem was that I then had another crash four weeks later. It was exactly the same thing, I crashed after the finish line, flipping and landing on my head. There's no film of it so I don't really know what happened, but you're on the edge the whole time so things can go wrong. But, it was not good. That took four months to recover from."
Loving the discipline of sport:
"I love the discipline of sport and always trying to be the better version of yourself and always being fit and healthy. I knew this was the sport for me from the minute that I clipped on my first pair of skis. Life off-snow for me is somewhat restricting, but the moment those skis are clipped on, those restraints are gone and I feel in control.

Photo credit: Jason Dodd Photography
Now, I'm on the snow 120 days a year from November to April and in the off-season I'm in the gym 6 times a week. I used to row, it was quite a big part of my life and it's given me a fantastic base fitness that benefits my skiing now."
Qualification and rivalries
"I've qualified for the Winter Olympics, so now I just need to be selected. There are three of us going for two spots. I'll know on 22nd December, we're all great skiers, so it's going to be tough. Aside from the other British athletes I'd say that Henrieta Farkasova from Slovakia is my main rival, she's absolutely incredible, such a great skier. "
Follow Millie's progress via Twitter: twitter.com/knight_millie
Find out more via her website: millieknight.co.uk
Get ready for the skiseason with Ellis Brigham: ellis-brigham.com
Danielle Sellwood, Sportsister
The Women's Sports Magazine
Save
Save
Save
Save
Save
Save
Save
Select a sport
Find out how to get started, training plans and expert advice.