Euro 2017 blog: Georgia Stanway – Proud to be involved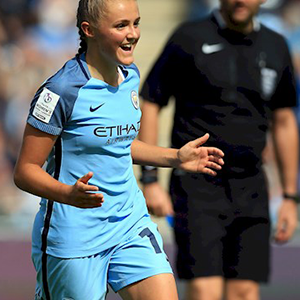 Former SSE Next Generation athlete Georgia Stanway and current Manchester City forward spoke to Sportsbeat's Pippa Field at the Women's European Championships in Utrecht.  
Proud to be involved
'It has certainly been a summer for women's sport in the UK – England winning the World Cup of cricket and Johanna Konta making it to the last four at Wimbledon – and it's amazing to be a part of that in some small way.
It's unbelievable for me making my way in football with Manchester City –  I think now is the perfect opportunity time for the younger generation to burst through and the only way is up for British women in all sport.
I think ever since the World Cup in Canada, the women's football game has grown unbelievably – the fact it is televised now and the fact that the WSL games continue to be shown live, the Euros as well, it's unbelievable.
The more we get fans in, the more money that comes into the game and with that there are more opportunities. It can only get better from here.
For me it wasn't too challenging forging a career in a male dominated environment. I loved playing with the boys. I loved being strong and putting in a tackle. I would often get shouted out, 'ah, look at that girl on the other team', but once you nutmegged them and scored, they had nothing to shout about.
You're almost known as a girl in that team, and actually a girl that isn't too bad. It was a good way to be portrayed. When I was proving the boys wrong, it was the best feeling in the world.
Especially for me, having an older brother, I've always competed against him. I always wanted to be better than him so that was just another way that I could tick the boys off the list.
How I reached the top of my profession

My career has really taken off – but there have been a number of support systems along the way that has allowed it to be successful.
It was an amazing experience to be part of the SSE Next Generation programme. It was a great opportunity to be able to meet different youngsters and learn about their stories and have the opportunity to undertake media training and understand nutrition.
I don't think I'd be here today if it wasn't for the media training I received on the scheme and how to answer questions properly. The scheme gave me the opportunity to announce the SSE Women's FA Cup – I was at the launch as a guest – and then to go and win it and lift the trophy this year with Manchester City.
That's just two years later –  I couldn't thank SSE more for their work.
Role models will help inspire the next generation
It's very important for the younger generation to have idols and mentors – I'm happy to fulfil this role if needed as well – and hopefully they will help direct the younger athletes on the best path.
I always looked up to the mentors that the SSE Next Generation scheme provided at the workshops, such as Darren Campbell – they really helped me and so it's strange to now be someone the next generation look up to.
I spent a weekend in Wembley, where I was able to get media training and nutrition training. It opened the doors to seeing more as an athlete, allowing you to grow and seeing where you could potentially get to.
In my opinion, it's also good to be a great person as well as an athlete, whether that be out of football, in football, out of sport or in sport, you've got to be the good person, you've got to be able to communicate with everyone and be down to earth. People might be idolizing you and looking at you – but I don't see myself as an idol.
I see myself as someone going out there to achieve what I want to achieve and if people look up to me and my attitude to training and my application to everything, to me that's just credit and I'm proud that people call me an idol.
How we attract the next generation of stars
I have also been watching afar the strides the Football Association and SSE have been making with participation and the grassroots game – the SSE Wildcats programme is helping to encourage more girls to get involved.
I think it's a great programme, especially being able to work with the younger generation, allowing girls the opportunity throughout the country to play football because obviously, it's not available everywhere.
It's now good that they've got that platform to grow and if we can get more girls playing football that can put us in good stead for the future winning competitions.
Sportsister
SSE is an official partner of the England Women's team and is proud to be the energy behind women's football, supporting the game from grassroots through to international level. Follow at @YourSSE  
Save
Select a sport
Find out how to get started, training plans and expert advice.