Golf: BBC's Eilidh Barbour on her route to becoming a sports presenter
Sports presenter – It's a dream job for many. The opportunity to travel the world and report on the most iconic events in the sport you love, so just how do you get to make that dream happen? BBC's Eilidh Barbour knew from an early age that this was the life for her and as a teenager wrote to Hazel Irvine for advice. Now as she's about to join the commentary team for the British Golf Open, she shares her story and advice.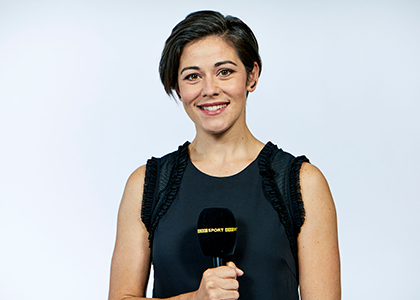 You famously wrote to Hazel Irvine as a teenager, have any young girls contacted you in a similar way yet?
I haven't had any letters but I've had emails from both boys and girls asking for advice. Not many are as young as I was, I was lucky in that I knew from a very early age what career path I wanted to pursue, but many who have been through university and just looking for advice on how to make that next step. Like many journeys the hardest part is the first step. Hopefully any advice I've passed on has been helpful!

Golf continues to have a rather stuffy image, how do you hope to balance the needs of a traditional v new audience?
I'm not sure there's any one person who can change the image of a whole sport! There is a lot that can be done within the game of golf from top to bottom to continue to create a more inclusive environment and I think it's up to everyone involved in the game from club members right up to those governing the sport to keep pushing to grow the game both within local communities and beyond.
In terms of my role, though, I can only hope that my passion as a golf fan and amateur player, my utter admiration for what these pros can do and the work I put in to grow my knowledge of the events and players I'm covering translates into people's living rooms. I love the game and I want everyone watching to love it too!

What was your route to becoming a presenter?
Like I mentioned above, I always knew this was the industry I wanted to work in. I love sport and, not being good enough at anything to actually play it to a high level, I figured this was the next best thing. I was lucky that I was able to meet some people within the industry who gave me opportunities at a young age to do some work experience which allowed me to make more connections and contacts.
After university I worked abroad for a year and saved enough money to be able to spend a few months doing more work experience, making hundreds of phone calls, sending even more emails and arranging meetings with those in the industry. Eventually I got a job with Scottish TV on their football highlights programme working behind the scenes and it just went from there really. I've had some incredible guidance along the way and have been given opportunities to develop which I have tried to grab wholeheartedly. I'm still doing the same, you're always learning and developing. Standing still isn't really an option.
Do you have a brain that stores lots of stats and info?
I like stats. Especially weird ones! I remember things if I physically write them down so I go through notepads like you wouldn't believe! I think it's important, though, to only use them when they add something to what's happened. And also not to use them all in the first 5 minutes!! Golf is a funny one, the stats can sometimes be a bit overwhelming, so I think it's even more important not to baffle the audience with too many
Have you commentated on women's sport? If so how does it differ? 
I've worked on women's football and women's rugby and will do my first women's golf event at the British Women's Open this summer. Women are different from men physiologically so the sport does differ in the ways that would be expected. That certainly doesn't detract from the sport or the technical abilities of the players involved, it just makes it unique. The problem we have I think is that men's and women's sport are constantly compared to each other.
Have you had to deal with twitter trolls and sexism – if so how do you deal with it? 
To be honest, I haven't really experienced either. There are others who say they have and, if that's true, it's sad those opinions still exist but I can only speak from personal experience and it's all been really positive so far. Long may it continue as I continue to do the job I love.
If you could play golf anywhere, where would you go?
I've been lucky enough to have played some incredible golf courses in Scotland and I love links golf so some of the ones here would be hard to beat but I'd have to say Pebble Beach (California, USA) is up there and, having been there earlier this year for work, Augusta National (USA) would be on the list.
Golfing experiences are the things I love though, my favourite course is a quirky but beautiful 12 hole course on the island of Arran, and given I love Iceland anyway, midnight golf in the middle of a volcanic crater is another unique golfing experience I hope to try. In terms of a golf hole, and running on that same theme, the Extreme 19th at the Legends Course in South Africa looks amazing fun!
Do you study other commentators? If so who do you most admire (women and men)? 
I'm always watching presenters, listening to commentators and interviews. Like I've said, it's all about constant learning but it's also very important to have your own style and personality. I love working with people I look up to so it was unbelievable the first time I worked with Hazel. She has been my inspiration from the start and, having now worked with her, her professionalism, work ethic and depth of knowledge is unbelievable.
In terms of commentators, Andrew Cotter, Ali Bruce-Ball and John Murray have been brilliant to work alongside. They have all mastered the ability to inform and entertain with great vocabulary and use of words. I genuinely think there are some superb presenters and commentators across a number of sports outlets and every one I've had the pleasure of meeting or working alongside have all been incredibly patient and helpful in giving advice, feedback and guidance which is just invaluable.
Danielle Sellwood
Sportsister
Eilidh Barbour will present extensive highlights of The British Open Golf on BBC Two from Thursday 20 – Sunday 23 July.     
Save
Save
Select a sport
Find out how to get started, training plans and expert advice.