WSW2017: Meet the speed skaters aiming to create history
The contrast could not be greater. While the UK basks in record temperatures, members of the GB Speed Skating team layer up for their morning training session at the National Ice Centre in Nottingham. The Winter Olympics in PyeongChang, South Korea, are just seven months away and the women's team are working hard to acheive their dream of becoming the first British women's relay team to qualify.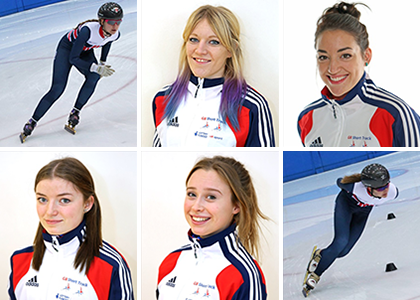 Top L-R: Hannah Morrison, Elise Christie Charlotte Gilmartin,
Bottom L-R: Kathryn Thomson, Jennifer Pickering, Sam Morrison
Short Track Speed Skating is mesmerising to watch, incredibly fast, yet graceful and smooth. It looks effortless, until someone crashes, and then you realise that the margin for error is slim. It's also tough, the slight crouching position may look natural, but it actually requires great strength and practice to achieve. Add to this the element of a race situation and it's easy to see why this event is so enormously popular in other parts of the world – it's also hard to understand why the sport does not have a higher profile here in the UK.
Above right: Elise Christie
But this might be about to change, the Sochi Games promised much for the team and in particular Elise Christie, but fate dictated otherwise and the team came away with nothing. This time Christie is going into the season as world number one and Charlotte Gilmartin is a World Cup bronze medallist and European Champion – not bad for Britain's no 2!
Alongside these two highly experienced and successful athletes there's a young, ambitious group of  women, inspired by their success and aiming high.
The prospect of qualification for the relay is very real, and very exciting; they need to finish in the top 8 this season to qualify and over the past two years the team has finished 9th and 10th. But this is an unpredictable event and experience is everything. With high speed change overs, no lanes and all the skaters on the ice at the same time, crashes are commonplace.
Up until this season the team has had very little opportunity to practice racing at international level, but this year they head to the first event with a full season behind them. The prospect is exciting and we're looking forward to watching the season unfold.
Follow on twitter for updates:
twitter.com/Sportsister
twitter.com/GB_ShortTrack
Short Track World Cup events:
Budapest: Sep 28-Oct 1
Netherlands: Oct 5-8
Shanghai: Nov 9-12
Seoul: Nov 16-19
Winter Olympics:
South Korea: 9th-25th Feb
Danielle Sellwood, Sportsister
The Women's Sports Magazine
Save
Save
Save
Select a sport
Find out how to get started, training plans and expert advice.