Squash: 2017 Saudi PSA Women's Squash Masters Added to PSA World Series Calendar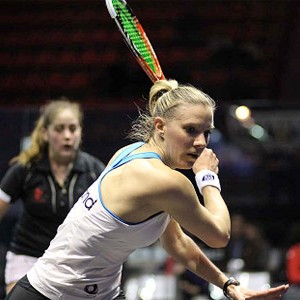 The Professional Squash Association (PSA) are pleased to announce that the PSA Women's Masters event will return to the calendar for the first time in seven years this October when Saudi Arabia hosts the 2017 Saudi PSA Women's Squash Masters at the Princess Nora bint Abdul Rahman University in Riyadh.

Following recent initiatives from the General Authority of Sports in Saudi Arabia to increase sporting participation and awareness across the country, the $165,000 tournament – due to take place from October 29 – November 2, 2017 – will play a crucial role in inspiring a new generation of Saudis to become active within sport.
Joining the likes of the iconic British Open, U.S. Open and Hong Kong Open, the 2017 Saudi PSA Women's Masters will be one of seven key Women's PSA World Series Tournaments to take place during the 2017/18 season – seeing the likes of Nicol David and Nour El Sherbini compete there for the first time.
"We are very pleased to be taking a Women's PSA World Series event to Saudi later this year." said PSA Chairman and Saudi businessman Ziad Al-Turki.
"Bringing professional squash back to Saudi Arabia for the first time since 2010 has been an ambition of mine and I am grateful for the support of the Women's Department of the Saudi General Authority for Sport to see this come to fruition.
"Not only is squash one of the healthiest sports it is the perfect sport for the Saudi climate. I'm hoping that this tournament will increase local participation in Saudi Arabia, and I look forward to working with all parties involved throughout the next six months insuring continued success for years to come."
Princess Reema bint Bandar bin Sultan, undersecretary president of the Women's Department of the General Authority for Sport in Saudi Arabia, said: " We look forward to growing the female participation of the sport of squash. It is a dynamic game that involves fast thinking and fast reaction times, skills that are well reflected in the women of Saudi Arabia."
Sportsister
The Women's Sports Magazine
Save
Save
Select a sport
Find out how to get started, training plans and expert advice.