A life of adventure – Katy Willings
Katy Willings has been in charge of organising some of the most renowned adventures, including the World's longest and toughest horse race, the globe's only long distance paramotor event and a motorbike ride across Earth's largest frozen lake.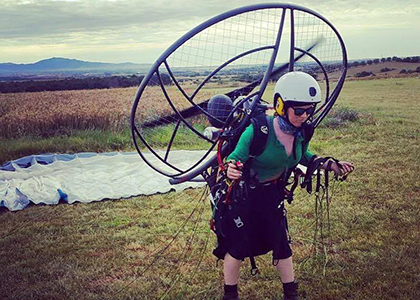 Modestly she sings the praises of all the competitors who complete adventures under her guidance, but rarely mentions her own adventure CV. She drove a tuk-tuk across India, completed the first Mongol Derby, a gruelling 600 mile horse race across Mongolia, has learnt to pilot a paramotor and spends months at a time in far flung parts of the world, negotiating the loan of horses with Mongolian nomads, route planning in Russia or finding clean air space above the US to ensure everyone has their own 'adventure of a lifetime'.
We spoke to Katy about what her ideal adventure would look like, what's kept her working in the industry and what she believes is the reason for there still being more men than women at the cutting edge of adventure…
How did you end up working in this field?
As a customer of the Adventurists in the first instance. Whilst working as a depressingly mediocre management consultant in London I ended up subbing in for a (much more adventurous) friend on the Rickshaw Run in January 2009.  I surprised myself with my own resourcefulness and enjoyment of the unscripted, mercurial aspects of that adventure, and fell in love with the company that was producing these sense-overloading, soul-awakening experiences simultaneously. Everyone needed a slice of this.
The day I finished the Rickshaw Run the Adventurists unveiled the Mongol Derby as their next adventure. The most ambitious, dangerous, arduous thing they had yet concocted. It had horses in. And a historical hook. That was me in with both feet, I had been basically brought up on a horse, like a Mongol. I had completed my application by the time I landed back at my desk in London.
All the riders were invited to debrief at its conclusion, I was generous with my time and analysis and submitted a CV along with some horse management, rule, equipment, format, marketing, commercial and structural suggestions. This event had so much potential, and I was desperate to be there and contribute to it fulfilling that. About nine months later, having proven my appetite to take a pay cut and leave London, I was invited to come and 'help out' for 'a couple of weeks' in the run-up to the 2010 event. I'm still there, 7 years later, with all of the adventures now in my portfolio. I still owe it to Elis, my late friend, and the Derby, though.
What's been your favourite adventure moment?
I'd say about 5 minutes post launch of anything that I am running is a favourite adventure moment. There are these fleeting times where all of the infrastructure and human capital you have brought together, and processes you have put in place, are just lumbering along under their own momentum. You just press play and…..see what happens.
Seeing the Derby field clear the horizon, before the next chapter of madness and logistical pickle kicks off, is hugely satisfying.
If I had to pick one specific moment though it would be the launch of the Ice Run 2015, as the runners skated out onto frozen Lake Baikal for the first time. We had these 17 bulletproof pioneers lined up, on these 9 Soviet era heavy military sidecars, the infamous Urals. We weren't sure the adventure, crossing the lake from south to north, was even possible, there was genuine peril and uncertainty, which kept me and a Russian support crew semi-in range. We drove from the rear of the pack to the front, and every rider was grinning, waving, pulling skids and doughnuts. The sun was reflecting off the surface of the ice, and you could see down 40 metres through the crystal clear ice. It felt like we had launched them into space, and they were ecstatic.
Why do you feel there are still less women at the cutting edge of adventure than men and what do you think we can do to help reverse this trend?
I think it's related to 'adventure' as a concept being hi-jacked by a status- seeking, goal-oriented, 'bucket-list' type people. It's vital to be seen doing cool stuff. Even if you don't actually want to do it for its own sake. I think men are more susceptible to this thought pattern than women. Women just don't take the same flak for saying "that sounds a bit like hard work thanks, I'll skip it". What this does mean is that the women you do see out there doing amazing things tend to be there for the right reasons, on their own terms, living authentically, not polishing a CV or a dating profile.
Any tips for women who might be thinking of planning their trip of a lifetime but don't know where to start?
I'm obviously a little bit biased, but The Adventurists website is a great place to start and get the adventure juices flowing (www.theadventurists.com). Most people don't have the time it takes to plan a full self-supported trip, but at the same time, if you want an authentic adventure, you don't want someone holding your hand constantly. I hope we get the balance just right. We don't shy away from the fact our trips can be dangerous, and for long periods of time you and your team- mates will be on your own and having to rely on your own skills, but we are always there in the background if things do go wrong.
If it was me, I'd pick something that doesn't just offer a one or two week hit, but gives me a new skill, new hobby and perhaps even a new set of friends – for me that is half the attraction of adventure. Why not find a friend who can teach you to sail over the next year and sign up for the Ngalawa Cup, a sailing race around Zanzibar, in 2018, or, if you're feeling really adventurous take a look at the Icarus Trophy, our paramotor event, and learn how to fly.
I definitely would not have considered myself remotely adventurous until meeting the Adventurists. It's a great way to test the concept.
Sportsister
The Women's Sports Magazine
Save
Save
Save
Select a sport
Find out how to get started, training plans and expert advice.