Tried and tested: Jack Wills Sportswear
A couple of years ago it would have been almost unthinkable for a high-street fashion brand aimed at teenagers and students to have sportswear as part of its' offer. Now, thanks to the 'cool' status  that being active and fit has amongst this demographic, it's becoming fairly common.
The latest brand to offer activewear is Jack Wills, so, does the gear stand-up to the rigours of a training session or is it just about style? Our teenage tester, Daisy put it to the test.

Daisy loves sport – she plays hockey and has recently taken up rowing and is pretty much all her school teams! She tested the Hartsop sports bra and Elmgate leggings, here's what she thought;
"My favourite item of the two is the legging. I really like the styling, it's not crazy and over the top like some sportswear is! Personally I am a bit tired of all the print stuff out there at the moment, this is more subtle and the back and navy combo makes it a bit edgy. My only complaint is that the  fabric is a bit thin and see through – this is usually a problem in cheap leggings, but I wouldn't expect it from a brand like this.
The bra is not really a bra, it shouldn't be called a sports bra because you can't wear it for anything that requires support and won't work for anyone with bigger boobs. On the website the description is fair though, it's aimed at yoga and low impact work and its fine for that, it's comfy and simple – nothing special, but nice enough.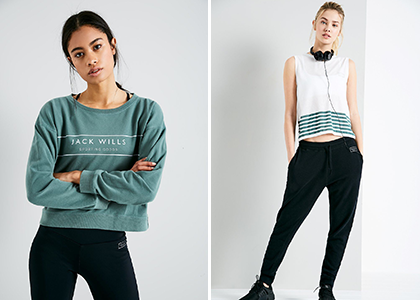 I had a look around the website at some of the other styles and picked out my favourite items (above), I would wear these items for just hanging out or going to training rather than the actual session. I think it's really positive that Jack Wills are offering styles for girls who like sport and want to show that – it all helps encourage more girls to join in."
Plus points:
Looks stylish and on-trend
Simple and easy to wear styles that are easy to coordinate
Good to see a fashion brand offering sporty options
Minus points:
Fabric on leggings is a bit thin and see-though
Sports bra should be sold as a yoga crop or something similar
A bit pricey so I would only buy it as a treat
See the full range here: jackwills.com
Daisy Horler, Sportsister
The Women's Sports Magazine
Select a sport
Find out how to get started, training plans and expert advice.