Recipe: Asparagus, feta and potato frittata
Packed with essential carbohydrates, potassium, calcium and magnesium, potatoes are a fantastic addition to any healthy meal – this frittata recipe is top on our list for a quick and nutritions meal.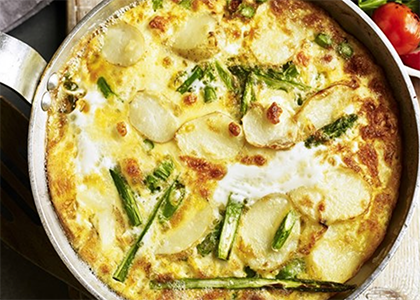 Ingredients. Prep: 10 mins. Cook: 10mins. Serves: 2
100g baby/new season potatoes
4 asparagus spears, chopped
50g feta cheese, crumbled
2 spring onions
3 eggs
10g butter
1tsp olive oil
Method
Cook the potatoes in salted boiling water for about 10 minutes or until tender, drain and when cool enough to handle, thinly slice.
Pre-heat your grill to medium.
In a frying pan add the butter and olive oil and cook the spring onions and asparagus over a low heat for 3-4 minutes. Add the potatoes and continue cooking for a few more minutes whilst you beat the eggs in a bowl with the crumbled feta cheese.
Pour this over the potatoes and cook very gently without stirring. When the base has started to set, pop the frittata under the grill until set.
Serve the frittata with fresh rocket, tomato and radish.
See more potato recipes at:  lovepotatoes.co.uk
Sportsister
The Women's Sports Magazine
Select a sport
Find out how to get started, training plans and expert advice.