Women's sports news round-up – April 3
Johanna Konta dominates this weeks sports news round-up as she became the first British woman to win the Miami Open after beating Caroline Wozniacki. Elsewhere, Cambridge won the women's boat race and the GB Ice Hockey team lost their opening game of the World Championships.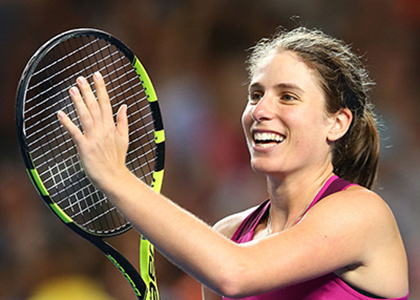 Tennis: Konta becomes first British women to win Miami Open
Johanna Konta claimed the biggest win of her career to date as she became the first British woman to claim the Miami Open title, beating Caroline Wozniacki in the final. The Dane, a former world number one, had no answer for Konta who cruised to a 6-4 6-3 success. Full story via TeamGB
Rowing: Cambridge win Women's Boat Race after dominating Oxford
Cambridge powered to victory in the 72nd edition of the Women's Boat Race after their rivals go off to a dreadful start on the River Thames.The Oxford crew could not have had a worse start, unbalancing and appearing to dip their oars far too deep into the rushing tide, tipping alarmingly to one side as they did so. Cambridge, who were the pre-race favourites, made the most of the opportunity and surged ahead into an unassailable lead. Full story via ITV
Table Tennis: Anna Hursey, 10, wins on Wales table tennis international debut
Ten-year-old Anna Hursey became the youngest player to represent Wales' senior table tennis team as she helped her country beat Kosovo 3-0. Wales won 3-0 in all three ties of the European Championship qualifier. "I was a little bit nervous but it was good. I played well, but I think I could do a little bit better," Hursey told BBC Wales Sport. Full story via the BBC
Gymnastics: Downie sparkles with title hat-trick in Liverpool
Rio 2016 Olympic finalist Ellie Downie was the leading light at last weekend's British Gymnastics Championships, and was happy her preparations paid off after taking home a hat-trick of gold medals. The 17-year-old won her maiden national all-around title at Liverpool's Echo Arena on Saturday, before picking up gold medals on the vault and bars the following day. Full story via TeamGB
Cycling: Ciara Horne cyclist has lost road confidence after commuting crash
Welsh cyclist Ciara Horne says she needs psychological help before returning to road training after being knocked off her bike while commuting. The double European champion said she fears she suffered a fractured wrist in the incident on Thursday but knows she "escaped serious injury". Full story via the BBC
Judo: Kelly Edwards finishes 7th at Tbilsi Grand Prix
Britain's judokas failed to win a medal on the opening day of the Tbilisi Grand Prix in Georgia. Kelly Edwards (returning from an ankle injury) and Chelsie Giles both lost in their -52kg repechage finals to finish seventh. Full story via the BBC
Ice Hockey World Championship: GB Women lose 5-4 to Netherlands in Group A
Great Britain Women suffered a 5-4 defeat to the Netherlands in their opening Group A game in the World Championship Division Two in Korea. The Netherlands scored after just 31 seconds and built a 3-1 lead at the Kwandong Hockey Centre. Britain next play hosts South Korea on Monday. They also face North Korea, Slovenia and Australia in the group stage. Full story via the BBC
Sportsister
The Women's Sports Magazine
Select a sport
Find out how to get started, training plans and expert advice.