Women's sports news round-up – March 27
This weeks highlights include wins for squash player, Laura Massaro and Modern Pentathlete, Kate French; and in winter sports, Scotland took bronze at the World Curling Championships and Aimee Fuller finished 5th in the World Slope Style snowboard rankings.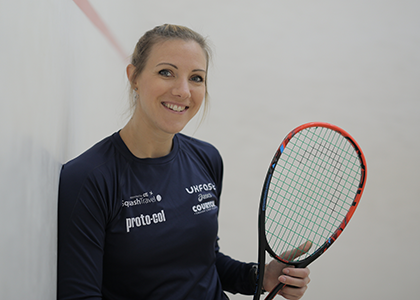 World Women's Curling Championship: Scotland take bronze as Canada win gold
Scotland beat Sweden 6-4 to take bronze as Canada won gold at the World Women's Curling Championships. The Scotland quartet of Muirhead, Anna Sloan, Vicki Adams and Lauren Gray had finished fourth in the round-robin behind Canada, Russia and Sweden. Full story via The BBC
British Open squash: Laura Massaro wins title for second time.
Laura Massaro beat compatriot Sarah-Jane Perry to become the first English woman for 66 years to win a second British Open title. Massaro, 33, won the final in Hull 11-8 11-8 6-11 11-6 to reclaim the title she first won in 2013. "It's just unbelievable," said the fifth seed, a former world champion and world number one. Full story via the BBC
Modern Pentathlon: Kate French clinches maiden World Cup win
Kate French believes the experience of competing at her first Olympic Games last summer is starting to rub off after she clinched her maiden modern pentathlon World Cup win in Cairo this weekend. Full story via TeamGB 
Snowboarding: Aimee Fuller finishes 5th in Slopestyle World Rankings
Aimee Fuller stepped up to the start line of the 4 rail, 1 hip and single jump Audi Snow Jam course, after qualifying directly to the final with one of the best runs of her season. In the 3 run final Aimee landed an equally impressive set of tricks, finishing with a 4th in this year's Czech Republic World Cup. The result puts her in more than good stead for qualifying to the 2018 Olympics in South Korea's Pyeongchang. Currently 5th in the Slopestyle world FIS rankings, with the top 30 women in Slopestyle and Big Air combined qualifying, Aimee's chances of competing in Pyeongchang 2018 are pretty good. Full story via the Snowcentre
Football: England women move back up to fourth in Fifa world rankings
England women have moved back up to fourth in the Fifa world rankings, overtaking Canada to equal their best ever position. Germany replace world champions USA as the number one team. Northern Ireland rise four places to 55th, Wales move up one to 33rd and Scotland stay 21st. Full story via the BBC
Tennis: Johanna Konta finds form in Miami Open to reach last 16
Britain's Johanna Konta rediscovered her best form as she thrashed Pauline Parmentier of France in straight sets to reach round four at the Miami Open. Konta, seeded 10th, took charge from midway through the first set to win 6-4 6-0 in 63 minutes. Full story via the BBC
Sportsister
The Women's Sports Magazine
Select a sport
Find out how to get started, training plans and expert advice.