Triple world Champion, Elise Christie "I'm on top of the world"
Last week Elise Christie made history by becoming triple world speed skating champion. Three years after her very public and devastating disqualification at the Sochi Winter Olympics, things are looking very promising ahead of next years Games in PyeongChang. Here Elise explains how she dealt with the aftermath of Sochi and what has helped get her on the podium.
On becoming World Champion
"I am on top of the world. I was so happy crossing the line, I just couldn't believe it. Triple World Champion. It still hasn't sunk in to be honest, I expected to win one event maybe, but to win two and the overall title is so rare, it just doesn't really happen – so it was amazing.
The whole team, were ecstatic and just as shocked as I was, but it brings a great vibe to the team and spurs everyone on.
The 1500 was the most unexpected win – I didn't really feel like I knew what I was doing in the first rounds, because I haven't really raced it since the last World Champs – so I just went out in front and then I realized I could win."
Being mentored by Will Greenwood
"Speed skating is such a mental game, so working on a different mindset has made a massive difference to me. Being part of the Sky Sports Academy has helped me enormously through their mentoring scheme. My mentor is rugby star, Will Greenwood, he's had to deal with disappointments as well as the heights of winning and he helped me with lots of advice on how to move forward after Sochi.
He taught me to accept failure, because until you accept failure you can't accept winning. I was really struggling with the Olympic disappointment and even coming away with a silver medal at the last worlds was disappointing. But he's really helped me with my mindset."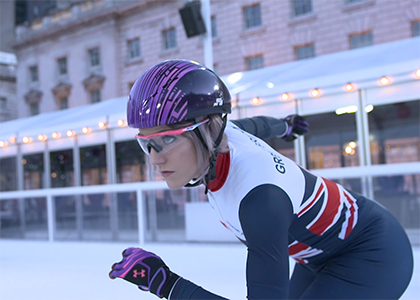 Preparation for PyeongChang
"We've now finished competing for the season and have two weeks of training, testing and recovery. I've been using a Game Ready Ice Machine – It's a cuff that you put on the legs that puts freezing water and compression onto your muscles and helps you recover – it's a really expensive piece of kit that I was able to buy with my grant from Sky.
We'll be moving into summer training soon, we go to altitude and race on the ice high in the mountains. Air has as much impact on racing as the ice does and we can get some really fast times at altitude, so it's great training.
Olympic qualifiers start in September and we have four rounds and then it's the Games in Pyonchang."
Having the right mental attitude
"Mentally I'm in the right place for the next Olympics. In fact I'd quite happily get on with it now. But I still have time to get better and even stronger both mentally and physically, so it's going to be exciting to see what I can do
I just need to not worry about the uncontrollable things, get out there and do what I know I am capable of.
Elise Christie is a current Sky Sports Scholar. The Sky Academy Sports Scholarship Scheme is now open for applications from sporting stars aged 16-25. Applications close at midnight on Sunday 26 March:http://www.skysports.com/scholarships.
Danielle Sellwood, Sportsister
The Women's Sports Magazine
Select a sport
Find out how to get started, training plans and expert advice.