IWD2017: "Men ran it all back then", football legend, Liz Deighan.
According to the Women's Football Archive, Liz Deighan is an English soccer great. On the pitch, midfield dynamo Deighan won 48 England caps and was the lynchpin of the great St Helens team which reached four WFA Cup finals in the 80s, she also graced the Euro 84 final with England. Off the pitch she was England under-21s coach and went on to found Newton Ladies in 1989, which became Liverpool Ladies.
Sportsister's Danielle Sellwood, spoke to Liz to find out more about one of footballs unsung heroes' and talk about how the game has changed over the years.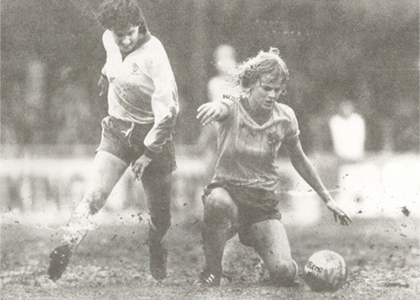 Photo taken from the Women's Football Archive, Liz (Left) at the 1984 Euro's
"We got so little coverage, but then women's sport generally didn't get any coverage. Channel 4 used to cover some of the FA matches and also the BBC showed the occasional match, but it wasn't promoted like it is now.
There were very few opportunities back then, men ran it all,
they were the managers and the coaches and pretty much everything else, it's great to see that women are more interested in it now and that there are more openings, that's a really positive thing."
Getting spotted
"I got into football by accident, I was working for the DSS back then and someone organised a charity match against a men's pub team. After the game a couple approached me and asked me to join their team – Wallsend in Newcastle – that was in 1972. They said I was very, very good! It was a fantastic start, but unfortunately there were no other women's teams in that area, the nearest was a team In Hull run by Flo Bilton.
The England Call-up
"I was put forward for the England trials, Tommy Tranter was the manager then and within a couple of months I got the call up. Vera (Elend) from Wallsend was ecstatic, but it meant that I got scouted to play for other clubs and I think it broke their hearts when I left.
I ended up going to Merseyside, where Sylvia Gore was running things, she helped me with going for job interviews, so that I could move over and start playing for them
I was thrilled to bits to get the call up for England in 1974 against France – I'd played all my life, but this was so amazing – I was so excited. Playing competitively at this level was a dream. I had a great life, I travelled and represented my country."
The international scene
"We were a strong group and stuck together and supported each other, we tried hard to improve and encourage crowds. It was a real eye-opener to go abroad and see the amazing support some of the other countries got – especially in Scandinavia.
They had great crowds at their matches; it was a completely different scene.
The players for Denmark and Sweden even got to keep their kit, whereas we had to give ours back! We did all rebel once though and keep our shirts – mines in the attic somewhere!"
Coaching
"I got into coaching after playing and was the first England under 21 coach – I started the squad and ran it for 4 years. It was all consuming, there were no holidays, no breaks – we got to do it all. But then the FA didn't want me anymore, I'm not quite sure why, but they wanted more of their FA people involved, so that was that. It was a frustrating time as the Under 21's ended up being scrapped. I went on to club football and set up my own team – Newton ladies instead."
Today's coverage
"It's great that women's football has this platform now, the World Cup coverage on the BBC was great and I really enjoyed watching England play France in the SheBelieves Cup last week– they even mentioned that the last time France was beaten was in 1974 when I was playing! That made me feel really proud."
Danielle Sellwood, Sportsister
The Women's Sports Magazine
This interview was made possible with help from the BBC. The BBC will broadcast every game from the 2019 FIFA Women's World Cup bringing fans all the excitement and drama with extensive coverage across TV, radio and online.
Select a sport
Find out how to get started, training plans and expert advice.