Win: Tickets to Find it Film Festival and Natracare bundle
The Find It Film festival kicks off on March 10 in Bristol with a great programme of films showcasing women's sport and adventure. To celebrate the launch, headline sponsor, Natracare is offering three Sportsister readers a pair of tickets and a Natracare bundle.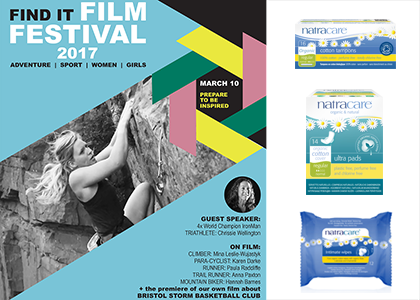 The Festival:
To kick off in style, Find It Film are delighted to have triathlon legend, Chrissie Wellington MBE open the event and speak briefly about her involvement in our headline film – Impossible. There will also be an excellent programme of short films featuring runner, Paula Radcliffe, climber, Mina Leslie-Wujastyk as well as the premiere of their own film about Bristol Storm Basketball club.
Find out more and book tickets here: finditfilm.com
Natracare:
Natracare are the sustainable choice for feminine hygiene products, since they are made from renewable, natural materials including organic cotton, bioplastics (made from plant starch) and wood pulp. Ethical, environmental and animal-friendly, Natracare products are biodegradable – and can even be composted!
The shocking truth is that most sanitary products are made up of 90% plastic materials and 1 pack of sanitary pads uses the equivalent of 4 plastic supermarket bags. If you care about the environment then take a look at the wide range of  Natracare products.
Find out more and buy here: natracare.com
WIN TICKETS AND NATRACARE BUNDLE
Natracare are giving away three pairs of tickets and a bundle of Natracare products, all you have to do is follow both @FindItFilm and @natracare on twitter and post a tweet telling us which film you'd most like to see. If you're not on twitter then go to Find It Film's Facebook page and post your answer there instead.
Here are the films:
Impossible. Karen Darke provides the backdrop to the film as she tackles an ironman challenge, This is punctuated with interviews and insights about motivation and resilience to keep going towards far-reaching goals with Chrissie Wellington
Run. A Moving Portrait Documentary of runner, Paula Radcliffe.
Jordanne. A short documentary about Jordanne Whiley, a 22 year old British wheelchair tennis player.
Bristol Storm. This short celebrates the often overlooked sport of Basketball. The women and girls of local team, Bristol Storm, share their love of the game, the amazing team spirit they enjoy and their ambitions to make it to the premier league.
Mina Meets Godzilla. Mina Leslie-Wujastyk attempts to climb the fearsome Godzilla in South Africa.Filmed and directed by Nick Brown. Produced and edited by Jen Randall.
Wild Women. Hannah Barnes Takes On The World Of Mountain biking.
Anna and Bo: This is a film that explores the relationship between running partners and how that can build the best friendships.
The Sky's the Limit: Have you ever dreamed of being able to fly? Four athletes have turned this dream into a reality and are ready to share the ups and downs of taking to the sky.
Comp closes Monday March 6
Winners will be announced on twitter over the weekend – you must follow @FindItFilm,  as winners will be contacted by DM.
The Natracare bundle will contain a selection of Natracare products.
Full terms and conditions
Sportsister
The Women's Sports Magazine
About Sportsister loves blog
Here at Sportsister we get inundated with news of new products every day so in this blog we will bring you some of our favourites. It's our guide to what's new…..what's good…..what works…..what's worth spending your money on…..what's fun….what's hot….what's special….Enjoy!

TO READ THIS BLOG IN FULL CLICK HERE
Select a sport
Find out how to get started, training plans and expert advice.