Laura Massaro and her grand plans for promoting Squash
Fresh off the court after a quick promotional film at Manchester's National Squash Centre, Laura Massaro bounces into the room wearing a smile. She bashfully admits that her inbox isn't often inundated with media commitments as a pro squash player, but having squeezed three into half a day, she's happy.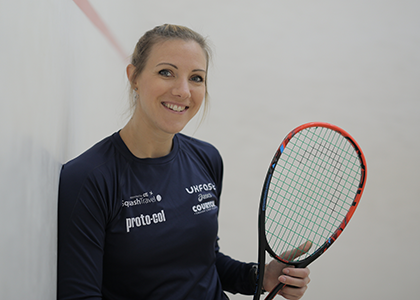 Photo credit: Squashskills.com
"My dad always said I volleyed the ball," Laura said, explaining how she first got hooked on squash. "He saw the eye coordination was there."
As she reflects on this childhood memory, the smile widens across Massaro's face suggesting there was a lot more than just eye-coordination.
There were the double silver medals at two Commonwealth Games, there were the double coronations of being World Player of the Year, there was the achievement of becoming the first Englishwoman in history to hold Allam British Open– the squash equivalent of Wimbledon – and a World Championship title in the same year. And then there was the strong end to 2015 which saw her dream become a reality as she stormed to the top of the Professional Squash Association (PSA) rankings for the first time in her career.
Massaro's CV is certainly impressive and so is the refreshing attitude that she still applies to her sport. At the age of 33, she admits the PSA tour is the strongest it's ever been, and despite being twelve years older than the current number one, Egyptian Nour El Sherbini, the Lancastrian isn't fazed by what the numbers say.
"At my age, it's really important to keep things fresh and as long as I'm physically good and motivated to improve my squash, then I'll keep playing," says the Chorley-born star.
"The plan is to go until the Commonwealth Games and then reassess after that. At the moment it's definitely something that's on my radar."
Having played on the PSA tour for 13 years now, Massaro's exploits off the court paint the picture of a selfless athlete who is already embracing the transition towards hanging up her racquet. Determined to give something back to the sport that has fashioned her into one of England's finest racquet players, she has run a tournament at her local squash club and has set up sport summer camps in the US for women, passionate about them engaged in sport "past that awkward age".
But in an ideal, post-career world, Massaro has set her sights – her dream – on something which could revolutionize squash in the UK, where participation numbers have dwindled in recent years.
"When I'm finished I'd love to get more involved in running events and to try and bring some of these amazing iconic locations that we have all over the world to England," says Massaro, eyes gleaming with excitement.
She recalls the mesmerising views playing in front of the Buj at the World Dubai Series final, the Pyramid of Giza in Egypt and more recently, New York's Grand Central Station, where she finished runner-up to France's Camille Serme in the Tournament of Champions.
"The trouble is in England, it's the weather. Rain coming down on the glass would be like playing in a conservatory. Unless you made it a glass box because generally, they don't have a roof," she reels, before her eyes open wide with excitement.
"Ah! You could make it a glass box though! My God, what an idea…like a greenhouse!" she beamed, before acknowledging the minor issue of money – the World Dubai Series had a budget of 1 million dollars.
Greenhouse or no greenhouse, Massaro still has time to implement this grand scheme of hers and perhaps she'll mull over it again come December, when the elites of world squash descend on Manchester for the PSA World Championships. It will be the first of its kind offering equal prize money to men and women – a telling sign that England is keen to follow some of its international squash federations in bridging the financial inequality that has long favoured male players, which at times has frustrated Massaro.
"The men's game is always seen to be physically harder, we play the same amount of games, on the same court and regardless of whether the rallies go on longer for the men or not, relatively we're working just as hard."
"I've never really got too bogged down with it because as a player, you have to trust the people around you, your governing bodies and associations to try and fight that battle for you."
Adding to such frustration are the three agonizing failed bids that squash has endured in its endeavour to become an Olympic sport, despite an impressive array of improvements spearheaded by the International Squash Federation. While they are willing to accept skateboarding, surfing and climbing into the 2020 Tokyo Olympics, IOC officials may be held the most accountable for factors such as dwindling participation numbers and a slow uptake in inequality when it comes to tournament winnings.
"If you've got badminton, table tennis, tennis – racquet sports that have been around just as long and are just as hard to play, if not harder, squash deserves its place," Massaro says defiantly, who goes on to admit that the 2024 Olympics would be way out of her career span.
"Everything that has been asked has been done, but at the end of the day, it's down to whether IOC members who vote whether you get in or out, it isn't, 'If you hit this many participation figures you can get in', or 'Do you this, you can get in' – it just seems very unmeasurable to me."
What is measurable, however, is the continued success of the PSA tour that Massaro has played on for 13 years, especially with increased coverage and improved viewer quality with the launch of Squash TV. The sport, as Massaro believes, doesn't have to sink into a three year depression only to get a high ever four, as some Olympic sports experience.
Unlike former world number one and Malaysian big-hitter Nicol David, who liberally stated in the Tokyo 2020 campaign video that she would swap all of her eight world titles for an Olympic gold medal, Massaro values the integrity that squash has maintained under the PSA ("I might swap one, or two," says Massaro, "but would she if it actually came to the crunch?").
Just like her titles, forfeiting her big idea for England's historic scene-setting squash court seems increasingly non-negotiable too and before long, the ideas are pouring.
"End of the mall at Buckingham Palace would be nice, or Horse Guards Parade, somewhere like that, or maybe more indoor locations – like the National History Museum. Or I'd love to put one in the Trafford Centre."
"I just have this vision of creating a squash event combined with OctoberFest – £100 a ticket and you can drink all you want and watch a bit of squash. But I need someone to buy in."
Any takers?
Fiona Tomas, Sportsister
The Women's Sports Magazine
Follow Fiona on Twitter: Fi_Tomas_
Follow Laura on Twitter: @ljmassaro
Save
Save
Save
Select a sport
Find out how to get started, training plans and expert advice.