Open water swimming: Henley Swim seeks 5 women for This Girl Can
The Henley Swim has announced that for the third consecutive year, it will be running a competition, in conjunction with Sport England This Girl Can, to give away free places in the Henley Mile on 9th July 2017.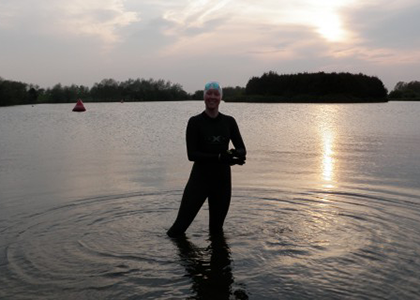 Henley Swim is looking for 5 women, aged 16 or above, who have never swum in an open water swimming event before, but would like to put themselves out of their comfort zone and try something completely new.
The 5 winners will have 3 and a half months to train to swim a mile in the Thames. During this time they will also be blogging about their experiences, talking about their training, their lives, their mindset, the elements of the swim they are concerned about, and the areas that don't worry them at all. Although likely to be geographically widespread, the This Girl Can swimmers will get to know one another through a private Facebook group, and will be able to chat in confidence with the group, along with some mentors from Henley Swim.
Henley Swim's co-founder Jeremy Laming said "We are very excited to be running this competition for the third time. We have been lucky enough to meet some incredible and inspirational women from the last two years, and have been amazed by their stories, their motivation and commitment. Many of them are still continuing their swimming journey, others have found new confidence in other areas of their lives as a result of This Girl Can Swim. We can't wait to see who 2017 brings to us."
The selected swimmers will also have the platform to complete a regular blog. You can read the blogs of our 2015 and 2016 This Girl Can Henley Mile swimmers here.
If you are interested in being considered for one of the free places please click here, and fill in the form telling us a little about yourself, why you want to swim what is motivating you to becoming one of our 2017 This Girl Can swimmers.
For more details of the competition, along with a message from Alison, one of our 2016 swimmers, and a link to the entry process, please visit www,henleyswim.com/this-girl-can. The closing date for entries is Sunday 19th March 2017.
Interested in  the Henley Mile or one of the other Henley Swim events, without being a part of the This Girl Can competition? please visit www.henleyswim.com. There are events for all ages from 8 upwards, and distances from 200m to 14km.
Sportsister
The Women's Sports Magazine
Select a sport
Find out how to get started, training plans and expert advice.