Tennis: Judy Murray and the LTA launch 'She Rallies'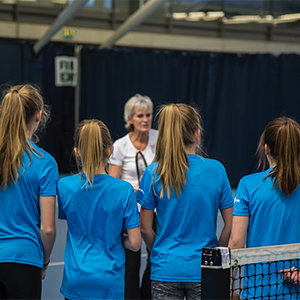 From 3rd – 5th February, Judy Murray and the Lawn Tennis Association will host a weekend of events that aims to attract and retain many more girls and women in tennis across the UK.


'She Rallies' has been created to strengthen and grow the female workforce with the ultimate goal of attracting and retaining more women and girls in tennis. In its first year, the programme will focus on establishing a group of regional female ambassadors who will work closely with Judy Murray after completing a weekend of training under her direction. The training will cover four key areas; starter tennis for girls aged 5-8, tennis for teens, how to run girls fun days and delivering recreational competitions.
The She Rallies ambassadors will then provide training and equipment to women from both tennis and non-tennis backgrounds within their regions, and empower them to give more girls the opportunity to play tennis locally.


Launching on Friday February 3rd in Birmingham with a first of its kind female coaches conference, the day will bring together a number of female speakers from various sporting and business backgrounds, including:
Judy Murray
Emma Doyle, Performance coach
Sue Mott, Award winning journalist
Dr Leanne Rimmer, Sports Psychologist
The aim is to give the female coach attendees lots of ideas, information and networking opportunities, whilst inspiring them to rally together and deliver great tennis experiences to women and girls. The 4th and 5th of February will then be dedicated to training the future She Rallies ambassadors.
Only 23% of qualified tennis coaches are female which is a fundamental area that the She Rallies program will address in order to overcome this imbalance.
Judy Murray said: There is still a significant gap in terms of players and coaches at all levels of the women's game. This has to change. She Rallies will create opportunities in tennis for women and girls from the grassroots through to international level. The coaches conference on 3rd February is a fantastic way to kick-start a really exciting programme and one that will have a positive impact on the growth and profile of women's tennis throughout the UK.
Sportsister
The Women's Sports Magazine
Save
Save
Save
Save
Select a sport
Find out how to get started, training plans and expert advice.