Get motivated: Training sessions to do with a friend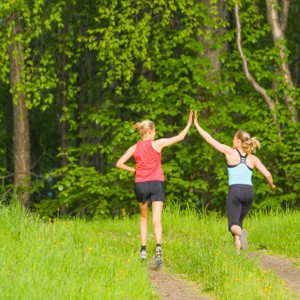 If you're finding it hard to motivate yourself during the cold, dark winter months then team up with a friend and support each other. Mix up the sessions to keep it challenging and why not try something new to relieve the monotony of January.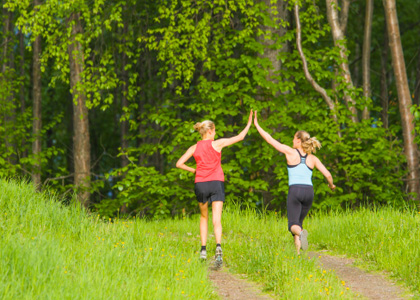 Some people really enjoy training on their own. However, the benefits of training with a friend with a similar fitness level, is definitely evident. Why not set a weekly training date and get a routine going…it's cheaper than paying for a personal trainer and more fun than training on your own.
Three simple workouts to do with a friend:
Running Drills
The most effective way to improve your overall running pace is to mix up your training sessions. This will also give you a leaner, lighter and more toned physique due to the way the variety challenges your body.
Plan your route to include a hill that is about a 10 minute easy jog from home, then start with a 20 minute warm-up run at a comfortable pace that brings you to the section. Now have a good stretch  – this is really important!
Hill intervals: The hill should be challenging if possible and be easy to do repeats runs up and down. Start with 3 repetitions and build every fortnight to a final total of 6 or 8 reps. In turns you run up the hill as fast as you can, keeping good technique, feet light, body strong and arms working – jog easily on the way down, keeping your core engaged. When you reach the bottom your friend goes, so your recovery is the time it takes your friend to run up and down – a great incentive to be strong and powerful up the hill. Note: The efforts should be about 1 minute long
Outdoor Circuits
Outdoor circuits are brilliant to do together – really good fun, challenging and more effective with a partner. Set out a circuit with each of you deciding on 3-4 exercises, choosing one lower body, one upper body, one core and one cardio exercise each, so it gets you both involved.
Warm up with a 10 minute jog, and cool down for 10 minutes including some good stretches.
Circuit 1:          Circuit 2:
Lunges              Squats
Press Ups         Tricep Dips
Crunches          Dorsal Raises
Star Jumps      Sprints on the spot
Aim to do each exercise for 30 seconds to begin with – building to 60 seconds. Over time build up to three circuits. You can do the exercises together to motivate each other – or alternate so you can encourage each other. You will be working different musle groups so you can move quickly between exercises, but listen to your body, nothing should actually be painful. You can check online (just google the exercise name) if you are unsure how to do an exercise.
Swimming
Swimming is a great exercise to do in the winter and if you're aiming for a triathlon or open water swim this summer then start training now. This session is aimed at those who can swim 750m comfortably but it can be adapted according to your ability.
Warm up:
200m easy pace – focusing on technique and breathing
Then:
100m fast – 20 seconds recovery x 2
50m fast – 10 sec recovery x 4
Optional: 25m fast x 6 – 5 sec recovery
For the repetitions one of you leads, and you change leader each time – constantly motivating each other. This will really add to your workout and make it more interesting. Don't worry if that means  one of you has an extra 5 seconds rest, the important this is that the slower swimmer gets the full rest.
Sportsister
The Women's Sports Magazine
Save
Save
Save
Save
Select a sport
Find out how to get started, training plans and expert advice.