Women's sports news round-up – January 16
Johanna Konta warmed up for the Australian Open by winning at the Sydney International, while Charlotte Gilmartin took a bronze medal at the European Short Track Speed Skating Championships.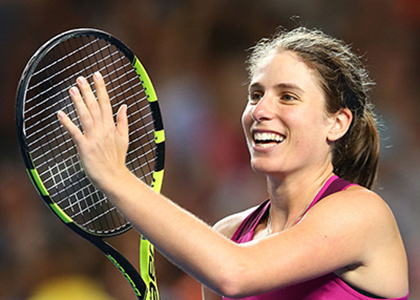 Tennis: Impressive Konta clinches Sydney International title
Johanna Konta warmed up for next week's Australian Open in perfect fashion after defeating Agnieszka Radwanska to win her second WTA career title at the Sydney International. Konta had not beaten the world number three in her previous two meetings but blew her Polish opponent away in Sydney on Friday, chalking up a 6-4 6-2 victory in just over an hour and 20 minutes. Full story via Team GB
Short Track Speed Skating: Gilmartin clinches European bronze
Sochi 2014 Olympian Charlotte Gilmartin insists her best is yet to come as she picked up a bronze medal at the European Short Track Speed Skating Championships in Turin. Gilmartin, who competed for Team GB over the 500m and 1500m distances in 2014, sealed her third European medal in the 500m on Saturday, having won 3000m gold and overall silver at last year's edition. Full story via TeamGB
Hockey FIH World League: Wales beat Singapore 7-0
Wales bounced back to beat Singapore 7-0 in the FIH Women's World League second round in Malaysia. The convincing victory came after a disappointing first match at the tournament where Wales lost 3-0 to Italy. It is the first time Wales' women's hockey side have played at this level of competition. They also face Thailand on Tuesday, 17 January. Full story via the BBC
Basketball WBBL Cup final: Manchester Mystics win inaugural event against Nottingham

Manchester Mystics have won the inaugural Women's British Basketball League Cup, with a 71-60 victory against Nottingham Wildcats. Mystics led at every quarter, and in Dominique Allen had the games' Most Valuable Player for her 21 points haul, 11 rebounds and two assists. Rheanne Bailey top-scored with 23 points for Manchester.
Full story via the BBC
Sportsister
The Women's Sports Magazine
Save
Save
Select a sport
Find out how to get started, training plans and expert advice.