Sportsister tests: Hövding airbag cycling helmet
Every so often something truly groundbreaking comes along, shakes everything up and changes the status quo. The Hövding helmet definitely falls into that category, while everyone else was refining the classic bike helmet design, two industrial designers, Anna Haupt and Terese Alstin where busy looking at head protection from a completely different perspective.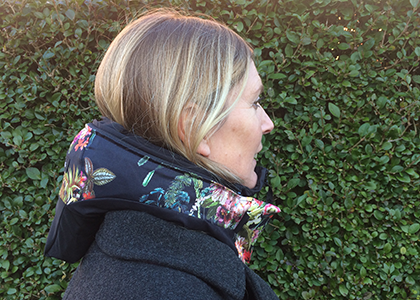 The idea of developing a new type of cycle helmet was a response to the introduction of a law on mandatory helmet use for children up to the age of 15 in Sweden. Anna and Terese saw their master's thesis as an opportunity to find out whether it would be possible to develop a cycle helmet that people would be happy to wear – whether they had to or not. The project resulted in the concept of an airbag helmet – in the form of a collar, which has since won numerous awards.
After over 10 years in development the concept is now available in the UK. But the question is, will people change their mindset from an easier to understand hard shell, to a collar that will only prove itself should you have an accident? Well there's a strong argument that suggests we should.
Researchers at Stanford University found in a study that the thickness and stiffness of the Hövding helmet is "near perfect" in terms of protecting against concussion and head injuries caused by accidents. They conclude that there is an eight fold reduction in the risk of concussion with the Hövding airbag compared to traditional helmets.
So how does it work?
Through advanced sensors, Hövding can sense the cyclist's movement patterns and will react in case of an accident. The unique airbag will then inflate, fixate your neck and provide the world's best shock absorption. The airbag is designed like a hood and made in an ultra-strong nylon fabric that won't rip when scraped against the ground. Hövding protects nearly all of the head, while leaving the field of vision open.
The inflated airbag covers a much larger area than a traditional cycle helmet and is designed according to current accident statistics. The protection is greatest where it is needed most and the airbag provides extremely soft and gentle shock absorption. The pressure remains constant for several seconds, making it able to withstand multiple head impacts during the same accident. After that the airbag slowly starts to deflate.
Using the Hövding
It's pretty straightforward to use the Hövding, but it does require a bit of time investment before you get started. Firstly, you need to charge the unit – this is easy using the USB cable that is included, you can charge directly through your computer or mobile phone charger. LEDs light up to show you when it is fully charged and a sound indicates if the battery is low (after about 9 hours of cycling).
To put wear it, you simply place it around your neck and pull the zip up under your chin. The zip needs to be completely closed for the collar to work correctly. There is an on/off switch on the zip tag that activates Hövding when it's attached to the right-hand side of the collar. Similarly, Hövding is turned off when you unclip the on/off button.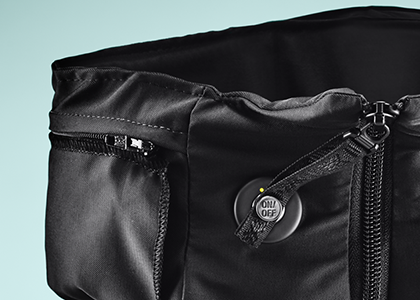 If it all sounds a bit daunting – it's really not. It's just a case of getting used to it and being efficient and organised. If you really think about how important this could be, it's literally a no-brainer! Plus there is a lot of information and support at the Hövding website.
Sportsister verdict
When I first took it out of the box it was heavier than I expected, but wearing it is fine. It does take a bit of getting used to because it feels different, but in this cold weather it just added to the general feeling of being wrapped up! Without a coat, it does look more bulky, so summer riding might feel less free – but actually it sits more comfortably without a coat collar. If you're worried about coordinating with your outfit and the the basic black model is just too plain, then there are also a choice of covers you can buy.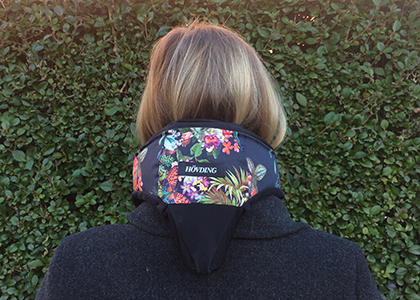 The technology is brilliant and once you get used to the process of using it, it's really quite simple. The only challenge is overcoming the mental block of years of wearing a helmet. If you ride without a helmet then obviously this aspect is easy to cope with, but for me it's a bit like driving without a seatbelt – it just feels wrong!
That said, many helmets are either poorly fitted, worn wrong or simply not going to protect all of your head. So as a mass-market product for the future, this has got to be it.
The only downside is that if you do set it off, then you need to get a new unit. Some insurance companies will cover this and obviously if you have an accident using a traditional helmet, you will need to replace that too – so it's no different.
Taking into consideration all aspects of this design, I think this is an absolutely fantastic product – now all it requires is a leap of faith!
Details
Cost: £219.00
Find out more here: shop.hovding.com
Danielle Sellwood, Sportsister
The Women's Sports Magazine
Select a sport
Find out how to get started, training plans and expert advice.