Netball: Captains' reflections on England v Jamaica
England Roses were beaten 64-57 by Jamaica in the decisive final game of the Vitality Netball International Series on Sunday in Coventry. The two sides were level going into the final quarter but the Sunshine Girls outplayed their hosts to win by seven goals and secure the series.
Sportsister caught up with both team captains – Jamaica's Jhaniele Fowler-Reid and England's Ama Agbeze – to discuss their respective sides' performances, the lessons learnt during the series and the prospect of challenging Australia and New Zealand for the world no. 1 spot.
Delighted with her team's victory, goal shooter Fowler-Reid was unsure how to sum up her side's performance.
She said: "It's really hard – I don't know! We just had really good team work and all of that so basically it was down to team effort.

Jamaica's Jhaniele Fowler-Reid
"We were hurting a bit (after Friday's game) and getting up and off to a good start was really good because we had a poor start last game so a good start was what we had."
The 30-year-old acknowledged that the Sunshine Girls still have plenty of work to do moving forward into 2017.
She said: "Going back to the drawing board is next of course because there's room for improvement.
"We need to improve on the parts that we faltered on – basically just to maintain our lead and to focus when we go out on court."
Meanwhile, a clearly disappointed Agbeze struggled to assess England's performance post-match.
She said: "I don't even think I can think clearly and straight, I'm just really disappointed. I think we sort of ebbed and flowed.
"With Jamaica, I think that they're a team who can score really quickly so you can't just be level with them going into the last quarter.
"If they're in the game, they're excited, they win ball and feed off it. Whereas if you get ahead of them early, then their heads go down. So if you allow them to stay in the game, which they were, it's always going to be a really tough battle at the end."
The Sunshine Girls proved very physical opponents throughout the series and were pulled up time and time again for contact calls.
The Roses struggled to deal with this pressure, particularly in game one, and Agbeze believes this is an area in which England need to improve psychologically.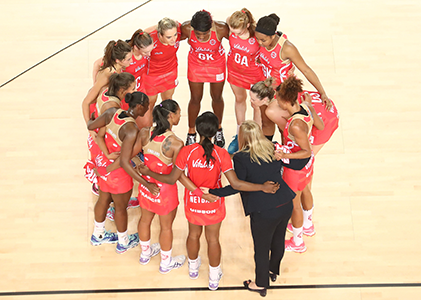 She said: "I think we got better from game one to game two. Game one we looked at the umpire to call stuff and it was 50-50. Game two we were better.
"I think we actually need to learn to take that physical pressure because that's how international netball is now – it's non-contact but if it's 50-50, it's just let go.
"We just need to rise above it and learn to take that – be content to take the ball and still be able to deliver a good pass."
Tracey Neville's side were guilty of making several costly unforced errors over the three matches and defender Agbeze recognised that these need to be ironed out to improve their performance.
She said: "We have to try to be consistent and when we have the ball, value our possession.
"We can't make two mistakes in a row and sometimes we made two or three, which isn't good enough. "
The battle for third between Jamaica and England has been on-going for over a decade but both teams really want to be competing for the world number one spot.
Fowler-Reid acknowledged that it would prove difficult trying to break Australia and New Zealand's dominance but that she had full confidence in her side.
She said: "It's going to take a lot to beat the Australians and New Zealanders but we have it in us. We have the skills so just need to work hard."
In contrast, Agbeze pinpointed the need for England to improve their mental strength as key to mounting a challenge to climb the rankings.
The 34-year-old said: "It is really tough. I think they have a broader range of players to choose from. If there are 20 people in our squad, they would have 60 people, who were good enough to be in their squad.
"We just have to work with what we have and I think it is just working better together, trying to value possession and then I think just developing the mental strength – I think that's one thing we really lack.
"If the game is close, nine times out of ten against Australia we will come out as the losers so I think trying to develop a mental strength is key. It's really hard to get that just training by yourselves, you need match playing experience so all these games that we're having are helping us and hopefully the more we play, the better we get and come out winning."
The England captain is embarking on a new adventure to Australia for the next domestic season, where she will be playing alongside Roses' teammate Jade Clarke for Adelaide Thunderbirds.
However, she still plans to keep a close eye on the Vitality Superleague while continuing to develop her own game further.
She said: "It's interesting because last season I played in England in the Superleague and this season I'm playing in Australia in the new league out there.
"But I think the Superleague is really exciting as there are new teams. It's getting better and better every year so I think it'll be interesting to watch from afar to see what happens there.
"For my own personal development, I think I will just be trying to stay on top of my game, retain my fitness and staying in the team, getting selected."
Katherine Ratcliffe, Sportsister
The Women's Sports Magazine
Select a sport
Find out how to get started, training plans and expert advice.