Netball: Kadeen Corbin and Beth Cobden reflect on England's crucial victory v Jamaica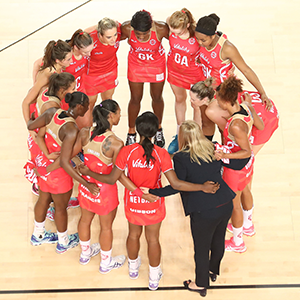 England stormed to a 63-50 win against Jamaica on Friday 2nd December in Manchester. The result means that just like the Sunshine Girls' last full tour to England, the series will come down to a third match decider.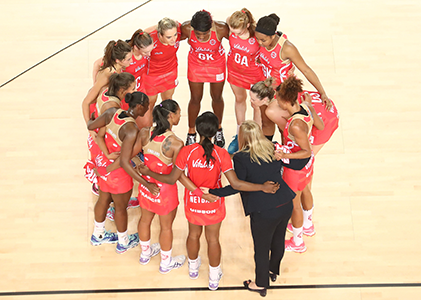 Ahead of Sunday's game in Coventry, Kadeen Corbin (GA) and Beth Cobden (WD) spoke to Sportsister about the differences in the Roses' performance compared to the opener, their expectations and the importance of the crowd.
How would you assess England's performance on Friday?
Kadeen: We knew it was going to be battle tonight and we needed to stick as a group and stick to our game plan. I think tonight showed that we actually did that.
Beth: I think we came out with a bit of a different game plan. Last game we sort of let it all go a bit, heads went down and I think we've just picked ourselves back up, stuck to the game plan and won the ball in defence and kept it clinical in attack. I was just trying to run on those lateral balls and got a few of them so I'm really pleased.
What did England do differently compared to Tuesday's opener?
Kadeen: More defensive pressure because we obviously know that the ball is going to be lobbed over to Jhaniele so we know we just have to stop that earlier. Everyone defended as a team – that's what we needed and it showed.
Beth: I think we worked a lot on keeping possession and not throwing away the ball, which worked really well today. There were lots of passing options available and I think it flowed nicely in attack. And then we looked at where we can turn over the ball in defence.
What makes your attacking partnership with Joanne Harten work so well?
Kadeen: I love playing with Jo! She's just a joy to play with, obviously given her experience at this level. We're now a good partnership and friendship is definitely the key – we're so close off court as well and it just comes out on court.
How do England need to approach the decider and what do you expect from Jamaica?
Kadeen: Stick to what we know – look at the positives from Friday and then hopefully push on. It's going to be an absolute battle but it's a decider and we're ready for it.
Beth: I think they're going to come out very physical – more so than Friday – so we need to get our heads around that. But I think if we stick to the way we played on Friday and the game plan, then we'll have them.
How much of a boost did the crowd give you during Friday's match?
Kadeen: I love the crowd! They need to always be behind us no matter what – the good and the bad. I'm glad we had that crowd. It felt like they were on the court with us and that's how we like it!
Katherine Ratcliffe, Sportsister
The Women's Sports Magazine
The Sunshine Girls' first full tour to England in four years will see the two sides meet in London (Tuesday 29th November, 19:45), Manchester (Friday 2nd December, 19:45) and Coventry (Sunday 4th December, 17:30).
All games will be broadcast on Sky Sports and @England_Netball will also be providing live match updates on Twitter.
Select a sport
Find out how to get started, training plans and expert advice.