Netball: Anna Woolhouse and Tamsin Greenway discuss England's chances v Jamaica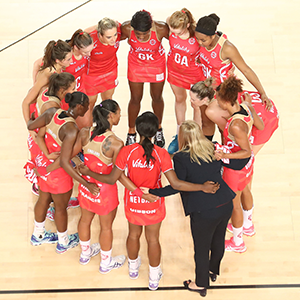 Sportsister caught up with presenter Anna Woolhouse and former England international Tamsin Greenway to discuss Sky Sport's netball coverage, the development of the England squad under Tracey Neville and the long-standing, fierce rivalry with Jamaica.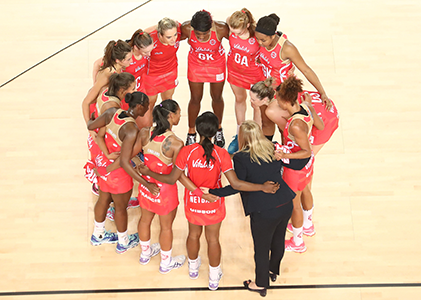 What's your favourite part of covering the netball?
Anna: I think it's just generally being involved in women's sport. I'm hugely passionate about it and it's certainly grown over the three years I've been involved in it. I love the game as well and sitting watching it, it's great. I get paid to do it as well!
What is it that makes the England-Jamaica rivalry so fierce and exciting?
Tamsin: I think just the nature of both teams and how competitive they are, but they have completely different styles. I think what's going to be interesting tonight will be seeing Jhaniele Fowler in the flesh. She's just so tall and so big and whether actually without Geva Mentor we've got anybody to match up to that. The rivalry has been there ever since I was playing so ten years ago and that third-fourth play-off. It's always been that thing that we've played in bronze medal matches, so the last Commonwealth Games Jamaica came out on top and then the World Cup we came out on top, so it's just been there forever. I think the frustrating thing is that both teams actually want to be vying for first and second! But when they come up against each other, there's no love lost. I used to hang out with Romelda Aiken when I was training with Firebirds and she used to say that the minute they came up against England, all they wanted to do was just get out there and absolutely smash us. And I suppose it's built up over time.
What's the biggest threat Jamaica pose to England?
Anna: In their team, they've got Fowler-Reid – 6ft 5! How on earth do you stop her?! We were trying to work out her wingspan earlier on – it's huge! But we've got loads of superstars and a strong side. We've got so much experience and a couple of new faces coming in. I think we stand a good chance!
What's your favourite memory of playing against Jamaica?
Tamsin: I have some bad memories against Jamaica but probably the 2015 World Cup. I wasn't involved in the Commonwealth Squad that lost to them in the bronze medal match but we were so adamant that we were going to come home with a medal after not making the final so to play them, and probably outplay them, was a really special moment to come home with that bronze medal.
How have England developed since Tracey Neville took charge?
Tamsin: Well it seems to have flown by. Soon enough we'll be into the next cycle of the Commonwealth Games and World Cup. I think she's started to bring some of the youth through and I think we're going to see that in this series with the likes of Beth Cobden. I think one of the biggest developments is where she's had to go in the shooting circle so no Pam Cookey, no Rachel Dunn and having Jo Harten back is brilliant. I'm really intrigued to see what that attacking unit is going to do and where Kadeen Corbin is going to fit into that GA role because I think Tracey's had to do a lot of work in several different units to bring players on. I think they're building; I think there's still a way to go for that World Cup final spot but I think they're on the right tracks.
How important is the new broadcasting deal with Sky for helping netball continue to grow?
Anna: It's great news for netball and, again, hoping to grow women's sport as well. I mean getting the coverage out there, which we've been campaigning for for ages and ages, is just huge.
Tamsin: It's fantastic! I was so excited to see that signed. It's been great anyway to be a part of Sky for the last few years – what they've done for netball, how seriously people see the sport and we have so much fun behind the scenes. What they've done for the sport has been absolutely fantastic. I think it's great to know that some of the sports are going to be on Sky Sports Mix and it's going to become more accessible to people because the reality is that netball is still one of those sports that people are getting involved in more and more and more. We just want to get the message out there, get the word out there and to have the backing of Sky is amazing.
Prediction for the opening match?
Anna: I hope England do it. Tracey Neville has spoken about this four-year cycle, winning the World Cup, getting that gold medal so she needs to get wins under her belt to do that. This is a great benchmark for her to see how the team are doing. There's lots of new faces in the squad as well.
Katherine Ratcliffe, Sportsister
The Women's Sports Magazine
The Sunshine Girls' first full tour to England in four years will see the two sides meet in London (Tuesday 29th November, 19:45), Manchester (Friday 2nd December, 19:45) and Coventry (Sunday 4th December, 17:30).
All games will be broadcast on Sky Sports and @England_Netball will also be providing live match updates on Twitter.
Save
Save
Save
Select a sport
Find out how to get started, training plans and expert advice.