Be Seen: Best high-visibility kit for runners and cyclists
This weekend the clocks will go back one hour and suddenly it's going to be dark by 5.30. so it's time to get visible, especially if you are commuting by bike.
Even if you are running on pavements you need to consider other pedestrians and make sure they can see you coming – bear in mind that not everyone has perfect eyesight and it can be quite a fright to have a runner suddenly appear.
Be considerate, be safe and be seen. Here are our favourite items available online now:
The best high-visibility gear combines bright colours with reflective aspects – this means you will be seen well in low-light conditions as well as the dark. We love this As Bold As reflective vest – its' geometric design is a million miles away from your standard workman style vest, plus it can be stowed away in its own pocket and kept in your jersey back pocket or cycling bag.
Buy: www.velovixen.com
ProViz Reflect 360+ Cycling Jacket, £109.00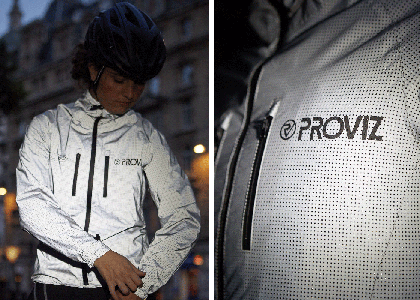 The Reflect360+ has all you need to keep the weather out as well as a tailored fit to minimise any flapping or excess material.  The fabric has a subtle grey finish during light hours and then lights up completely under lights making you visible from all-angles. Brilliant!
Buy: www.velovixen.com
No Such Thing Reflective Leggings £79.99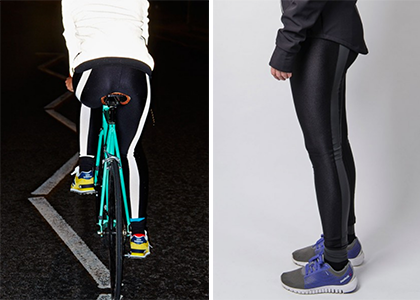 These leggings work really well whether you are cycling or running. In daylight they simply have a grey panel, but at night they reflect light to give really great visibility.
Buy: www.cyclechic.co.uk
Hump Deluxe Waterproof Rucsac Cover £22.49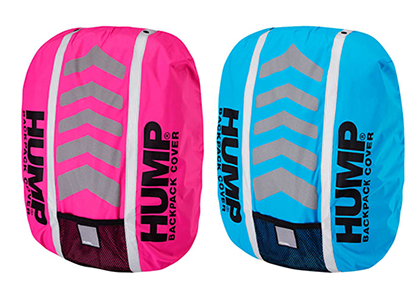 This high visibility rucksack cover protects your bag from the rain, is really visible in the daylight and dull light and reflective details keep you safe at night. The elasticated binding and elasticated snap buckle fasteners ensure that the Hump fits snugly over your backpack or pannier bag for a custom fit.
Buy: www.evanscycles.com
Silva Jogger Sn62, £17.50 was £25.00

Head torches are becoming really popular for runners and cyclists, they help light your way when needed, but also allow others to see you coming. The compact size and lightweight design with the batteries integrated in the headlamp body makes Jogger extremely comfortable to wear on your head.
Buy:  www.sweatshop.com
Retro Reflective Bands,  £7.50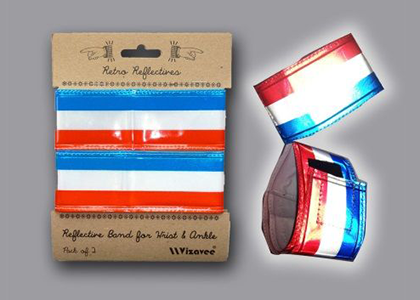 These stylish and versatile bands are suitable for ankles or wrists plus they are great for keeping loose trouser fabric away from the chain.  We love the simplicity of the simple stripes, but you may prefer the funkier orange animal print as shown on the homepage image.
Buy: www.sustrans.org.uk
Danielle Sellwood, Sportsister
The Women's Sports Magazine
Save
Save
Save
Save
Select a sport
Find out how to get started, training plans and expert advice.