Travel: The Adventure Travel Show – Women At The Edge
As the UK's foremost travel event for people who like something a little different from their trips, The Adventure Travel Show is an essential date in every traveller's diary and this year you can listen to tales from the highest peaks, the vastest oceans and forgotten lands from some of the most inspiring female adventurers.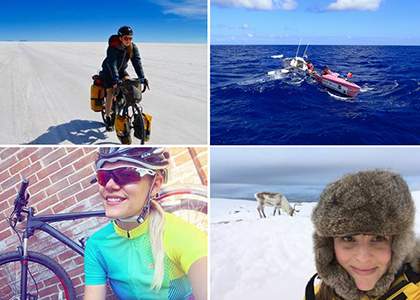 Immerse yourself in a weekend of adventure travel inspiration and discover off the beaten track travel experiences with the biggest collection of specialist travel operators under one roof. Plus, you can listen to over 100 free talks in 4 theatres from explorers, industry experts, guide book writers and expedition leaders who will help you uncover your perfect adventure – see our top picks below.
Female panel: Women at the Edge
Join Rebecca Stephens MBE as she hosts an audience with female explorers who live life at the edge. From mountains to motorbikes to long distance swimming – the panel will be talking about when things go right, when things go wrong, and what motivates them to keep on getting out there.
The Panel of Female Adventurers include: Rebecca Stephens MBE, Ness Knight, Laura Bingham, Paula Reid, Justine Gosling and Natalia Cohen
Laura Bingham – Overcoming obstacles on a bike
2016 saw Laura Bingham cross South America with only the equipment she could fit in her panniers. She cycled from the Pacific Coast of Ecuador, over the Andes, through the Amazon jungle until she finally reached Buenos Aires – and the Atlantic Ocean.
If this feat wasn't tough enough, Laura conducted the entire expedition completely unsupported and with no money. Her extraordinary resourcefulness and unique charm was tested to the absolute limits. All expeditions rely, to some extent, on human kindness but this adventure would reveal how welcome Laura really was in South America and whether she got the local population to help her along her journey.
Justine Gosling
Justine Gosling juggles a busy life of adventure, work in the NHS and voluntary emergency natural disaster response deployments. Justine undertakes adventures that aim to engage people in history and is also very passionate about the arctic.
In 2015 Justine walked the whole length of Finland, a distance of nearly 1,000 miles and cycled 3,500 miles along the line of the 15 countries that formed the former Iron curtain. She has spent much of this year in the arctic climbing mountains and on expedition in Svalbard skiing and camping to a remote abandoned Soviet town and kayaking there this summer.
Natalia Cohen & Emma Mitchell – The Coxless Crew
With different personality types and backgrounds, how did a team of 6 women survive a gruelling 9 month expedition on a 29ft boat in the middle of the Pacific Ocean? Part of this all-female crew to row unsupported (who set two world records), Natalia Cohen and Emma Mitchell talk about what connects, drives and limits us as individuals and as a team as well as how to find the strength within the diversity of a team.
Where and when
The Adventure Travel Show,
Where: London's Olympia
When: 21- 22 January 2017.
Tickets: £8 in advance or £10 on the door, under 16s are free. Weekend tickets £12 in advance or £15 on the door.
Full details and book: www.adventureshow.com or call 0871 230 7159 Please note, calls to the Ticket Hotline cost 13p per minute plus network extras.
Sportsister
The Women's Sports Magazine
Save
Select a sport
Find out how to get started, training plans and expert advice.