Purition launch raspberry flavour in aid of Breast Cancer Awareness Month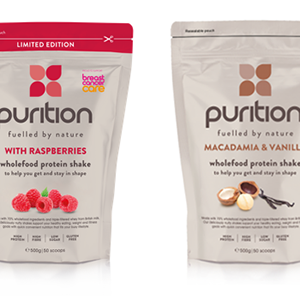 Purition, makers of healthy wholefood smoothie blends, has created a limited edition raspberry flavour which will go on sale this month (October) in support of Breast Cancer Awareness Month.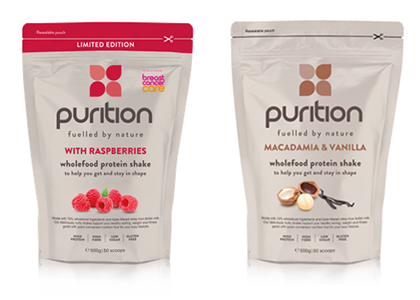 Company owners Edward and Louise Taylor have teamed up with Breast Cancer Care for the launch of the new flavour and each bag produced will carry the charity logo.
Louise said: "For every bag sold £1 will be donated to Breast Cancer Care which supports women affected by breast cancer.
Based at the Shropshire Food Enterprise Centre in Shrewsbury, Purition has been making a range of nutritious, gluten free protein smoothie blends for the last three years. The smoothies are used by athletes, but Purition have recognised that some cancer patients are using the shakes to help meet their nutritional needs.
"Knowing what to eat during and after treatment can be difficult as various side effects can impact on your appetite, your taste buds and your energy levels. However, eating a healthy and well balanced diet can help to boost energy and generally improve wellbeing."
The new limited edition raspberry flavour will be available to buy online at www.purition.co.uk from mid October.
Sportsister
The Women's Sports Magazine
Save
Save
Select a sport
Find out how to get started, training plans and expert advice.