Cycletta: How to train in the final two weeks before an event
If you're preparing for Cycletta or your first cycling event, then you may be wondering what training you should do in the run-up – should you train? Should you not? Here are our tips to help you arrive in the best possible shape! 
You might not consider yourself an athlete, but it's worth employing some of the tactics used by the pro's in the run-up to your first event. The last 7 to 14 days preceding an event is known as the pre-event taper, get it right and you will enjoy the event more relaxed in the knowledge you've done everything you need to have a good event.
Ideally you will have been preparing for a couple of months now, but these last two weeks should see you reduce your training so you are fresh when you turn-up on the startline.
If you've missed a few weeks with ilness or injury, then don't try to cram a months training into the last two weeks – it's too late and you'll do more damage than good. Either lower your expectations for the day and take it easier, or  give it a miss and prepare for something else.
Last long ride
If you've been doing longer rides at the weekend in preparation then you need to do your last 'long ride' two weeks before the event. The week before the event just do a shorter, relaxed ride – don't load up the gears and don't over exert yourself on epic hills – you should finish this ride still feeling fairly fresh.
Use this last long ride to think about the upcoming event and check your bike is running well. After your ride, check over your bike – give it a clean and some lube if it needs it and generally make sure it's all set. You can still ride it in the week before, but this will give you the opportunity to spot anything that needs attention before it's too late.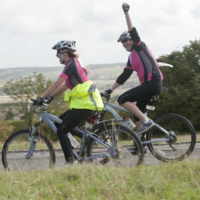 How much?
How much training you do in the week before the event very much depends on what you normally do – it should be around half the amount of training you normally do. Crucially you shouldn't do anything you havn't done before, in other words don't try anything new.
How hard?
Any training you do undertake should be done at less than 80% and the closer you get to the event, more like 50% – really you are just reminding you body how it works and nothing more.
Eat
Make sure you eat well in the last few days before the event, you want to arrive stocked up and full of energy. Eat good stuff too, you'll need a balanced mix of carbohydrates and protein. Don't forget to drink plenty as well, there's no point downing a bottle of water 5 minutes before the start, you need to be well hydrated in the 2-3 days before.
The day
Don't overdo the stretching, just a few gentle stretches to wake up your muscles will do. The start will not be crazy or fast, so you can ease yourself in and warm-up in the first mile or two.
Now, go out and enjoy yourself!
Danielle Sellwood, Sportsister
The Women's Sports Magazine
Fancy joining us? Find out all about Cycletta here
Select a sport
Find out how to get started, training plans and expert advice.