Throwback thursday: Event review – Cycletta Cheshire 2011
Cycletta North was the second of two new cycling events for women launched this year, the first having taken place near London in September (read our review of Cycletta South here). With perfect timing as cycling reaches unprecedented popularity, Cycletta Cheshire exceeded expectations as 800 women turned up to ride the 36.6km course through the country lanes around Tatton Park.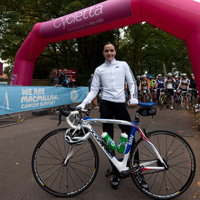 It was an early start, my ride time was scheduled for 9am and I was recommended to arrive an hour before at 8am. For me that meant leaving home at 5am and although it's fair to say that most people will have had a shorter journey time, 9am on a Sunday is harsh – although to be fair, most events start early and it means avoiding the traffic at least!
However the timing is my only gripe, the rest of the event was fantastic and actually being slap bang in the middle of a heat wave the cooler morning air was lovely. I found the venue easily, the signage was excellent, there were loads of marshals and it was easy to park up and get to the event village.
I got my bike ready, ate a banana and wondered over to test the facilities – lots of portaloos – always a good start, plus a nicely arranged area of cafe style seating, food and drinks, retailers, pamper section and information desk. The event MC was already making announcements and giving us timings and alerts as to when we needed to be ready – which all helped to make it stress-free.
Half an hour before the start the 9am starters were encouraged to gather by the stage for a welcome from Victoria Pendleton,  a warm-up (slightly tricky holding a bike), and then we were all sent off  towards the startline where we were set off in batches of 10 at 30 second intervals. If you are nervous about cycling in a group, then there is no need at Cycletta, I just held back and let the faster ones go off ahead leaving me loads of space to relax into the ride as we headed through the beautiful grounds of Tatton Park.
The only other cycle event I have done is the family orientated Skyride, so I had no real expectations except to just enjoy the ride. I only have a mountain bike and was certainly in the minority at this earliest start time where there were a lot of nice road bikes and cycle club riders, but everyone was friendly and the general feeling was of personal achievement rather than winning or posting the fastest time!
The course
The Cycletta North 36.6km route was a series of gradual inclines and declines, turns and straights, which kept my mind as well as my legs active. For me cycling on my own, it meant there was never a dull moment and I certainly did not feel like 'Billy No Mates'. In fact I ended up spending most of the ride close to another couple of riders of similar speed as we cycled through country lanes, past pretty villages and beautiful farmhouses.
Although the roads were not closed to traffic, there were very few cars around and although we had to stop at a couple of junctions the ride was largely continuous  – in fact the main other road users turned out to be bunches of club cyclists going in the other direction!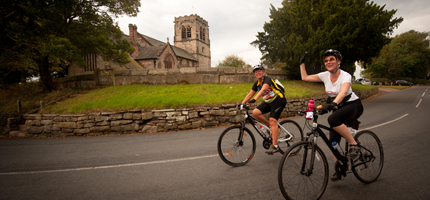 I really enjoyed the undulating course because it meant a fairly consistent pace with a few small challenges and some nice downhill sections to add variety, and despite having planned to just pootle around I ended up pushing it on a bit and working at a reasonable pace.
There were only a few indications of how far we had gone, one at half way , one with 10km to go and then a couple more as we arrived nearer the finish line. I had no watch and no real idea of how long it would take me anyway, so it was nice to see the route markers. There were also a couple of drinks and snack stops, but I was carrying my own water, so didn't stop, but appreciated the cheery smiles and support from those manning the stations.
It was also nice to reach the point where we re-joined the road back to Tatton Park and saw many of the 10am starters heading out. And I was delighted to see so many different types of bikes and abilities of riders – some even dressed-up, some in groups and pretty much everyone smiling and having fun!
Then before I knew it we were riding back into the grounds for one final loop and a long (but gentle) uphill to the finish and a welcoming crowd of supporters! We picked up drinks, were handed a cute bracelet medal and then headed back to the village to enjoy the delights of helmet hair remedy, a soothing massage and nail treat (if, unlike me, you have nails worthy of a treat!)
I loved it, and if the course, the village and the camaraderie were not enough, by the time I had put my bike back in the car a text message congratulated me on finishing and informed me of my time! Amazing – that's efficiency!
Would I do it again?
Yes definitely, in fact I would do it several times again! I hope that there are a few more next year and ideally one in the south west too! I would even look to take part in other cycle events if they were as welcoming and friendly to me and my knobbly tyres as Cycletta was. In fact I am almost temped to save for a road bike too!
Good Points
– Welcoming and friendly all-female atmosphere.
– Perfect for all abilities – you can be as fast or as leisurely as you wish.
– Efficient organisation and plenty of marshals.
– Good communications.
– Great village area with plenty of porta-loos, refreshments and of course the pamper zone!
Bad points
– Early start.
– Difficult to get there if you didn't own a car and could transport your bike.
– No more until next year… not sure I can wait that long!
Danielle Sellwood, Sportsister
The Women's Sports Magazine
Photo credits: RB Create
Save
Save
Save
Save
Save
Select a sport
Find out how to get started, training plans and expert advice.