Sportsister Loves: Women's Gold Medalists Rio 2016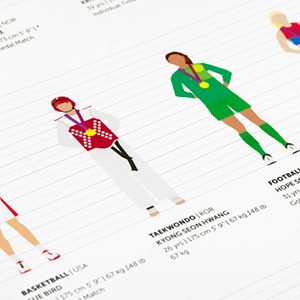 You may remember a really cool project that celebrated all the female gold medalists from London 2012 via brilliant illustrations of each and everyone. Well it's back and getting really to do the same for Rio – and this time you can get your hands on a poster or book via the designer, Wendy Fox's, Kickstarter campaign.
How it started

While watching the 2012 London Olympics, Wendy was awestruck by the athleticism of the female athletes as well as their physical diversity. Given how little media coverage there is of female athletes, she thought it would be interesting to create a visual infographic depicting each athlete's sport, country, physical attributes and their accomplishments. With access to the London Olympics website, information was aggregated for the 276 women who won gold medals. Each Olympian is featured dressed in their athletic uniform, wearing their medal, lined up in height order.
The illustrations have been kept simple and graphic but with lots of personalising details. The London project included two posters, an interactive website and a short animated video.
Rio 2016
This year, Wendy is giving fans of her project the chance to pre-order a poster or book of all the medalists from Rio. There are several ways to support the project and get a piece for yourself, starting at $15 Aus (£8.50) for a digital download and project updates, to $45 Aus (£25) for the poster, to having yourself or your team illustrated into the poster from $500 Aus (£286.00).
We've backed the project, so get going and show your support – items will ship in time for Christmas 2016, so plan ahead and surprise someone!
Find out more here: www.kickstarter.com
Danielle Sellwood, Sportsister
The Women's Sports Magazine
Save
Save
Save
Save
About Sportsister loves blog
Here at Sportsister we get inundated with news of new products every day so in this blog we will bring you some of our favourites. It's our guide to what's new…..what's good…..what works…..what's worth spending your money on…..what's fun….what's hot….what's special….Enjoy!

TO READ THIS BLOG IN FULL CLICK HERE
Select a sport
Find out how to get started, training plans and expert advice.