Get Set for Rio – Rowing: When, what and who to watch
Rowing is consistently one of Great Britain's most successful Olympic sports having collected 63 medals since Paris 1900. It is the only sport in which Team GB have won a gold medal at every Games since 1984 and in recent years it's had it's fair share of fantastic female athletes.
In Rio there are eight men's and six women's events in boats for one, two, four or nine (8 + the cox) competitors. The events will take place at the Rodrigo de Freitas Lake, one of the city's main landmarks which has been equipped with a new finish tower and Olympic lanes for the event.
Venue: Lagoa Stadium, Rodrigo de Freitas Lake.
Date: August 6 – August 13 (medal events from August 10)
Time: Mornings from 8.30am (12.30 uk time)
History makers
Elisabeta Lipă (Romania) is the most decorated rower in the history of the Olympics, winning five gold, two silver and one bronze medals between Los Angeles in 1984 through to Athens in 2004.
TeamGB ones to watch
The entire team are extremely impressive and serious medal contenders, so don't miss an event. However the top crew are undoubtedly Helen Glover and Heather Stanning (below), who are tipped to retain the title they won at London 2012. Despite a change of crews in the aftermath of London, they have been back together and unbeaten for two years now, winning  the World Championships in 2015  and the European Championships in 2015 and 2016.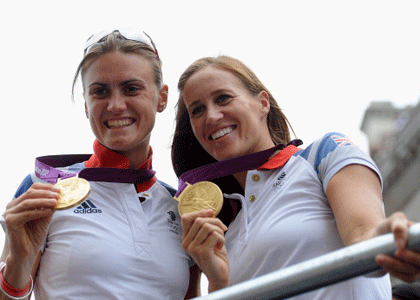 Also defending her title is Katherine Copeland (below centre), the Olympic lightweight double scull champion will row with Charlotte Taylor at her first Olympic Games. Both were World Championship silver medallists last year.
Jargon buster
Catch a crab: To make a faulty stroke.
Scull: To row with two oars, one in each hand.
Sweep: To row with one oar.
Coxswain: The coxswain, or cox, typically sits at the stern and is responsible for steering the boat and directing the crew.
Lightweight: In women's lightweight events, no rower may weigh more than 59kg, with an average weight per crew member not exceeding 57kg. For men, the single-rower maximum is 72.5kg, and the maximum crew member average shall not exceed 70kg.
Repechage: Race that takes place after the heats for those who didn't qualify directly. It is a second chance to make it to the finals.
Basic rules
The boats race in six lanes (13.5m wide) along a 2,000m flat-water course and the first one across the line wins. There are markers at each 250m down the course, so the athletes and spectators can assess how far they have gone/still have to go.
Crews compete first in heats, with the best boats going through to the next round and others to the repercharge (see above). Each country can only field one crew per event. There are generally heats, repercharge, semi-finals and then the final.
Who to follow on twitter
@GBRowingTeam
twitter.com/Helenglovergb
twitter.com/GBRTeamW8
Rowing Olympic fact
Rowing is the only sport where competitors cross the finish line backwards.
Useful links:
www.teamgb.com
www.britishrowing.org
www.bbc.co.uk/sport/get-inspired
Sportsister,
The Women's Sports Magazine
Save
Save
Save
Save
Save
Save
Save
Save
Save
Select a sport
Find out how to get started, training plans and expert advice.