Expert advice: How to eat for a triathlon, part 2 – during
It's peak triathlon season, so here's some great advice if you're planning to take on a triathlon this year. Getting your nutrition right can make all the difference to your race preparation and performance. In this blog post we tap into the expertise of  Dr Matthew D Campbell, Dr Lauren Duckworth, Dr Andy King and Oliver Shannon from Leeds Becket University and Olympic hopeful Tom Bishop.
For Olympic distance races such as the ITU World Triathlon inLeeds where you might be competing for over two hours, swimming, cycling and running a combined distance of over 51 km places a huge demand on your body. However, knowing how to "fuel" appropriately will allow you to capitalise on your hard work during training, perform optimally on race day, and recover quicker after the chequered flag.
With the three different disciplines, the beauty of triathlon is that you can adapt your fuelling for each leg of the race – but, how much of what and when?
During the event
As a general rule, aim for 60g of carbohydrate per hour. A study at Leeds Beckett showed that increasing this dose when using just glucose may be detrimental, so the message should be to make sure you don't overdo it.
Recent recommendations, again supported by our research show that 90g per hour can be even more beneficial, but this may be exclusive to longer performances and those used to taking carbohydrates.  It's hard to prescribe a one-size-fits-all strategy as everyone has a personal preference on around carbohydrate tolerance and preference.
Carbohydrates which are easily consumed during the race can be found in the form of a gel, bar, chews or drink.  Solid foods are an option but are less useful in shorter races. What you must do is practise your chosen method during training before race day, and try different combinations to see what works for you.
It's often easier to eat on the bike so it's a good time to refuel with solid foods if possible, and save the more transportable foods for the run.  As a guide, the following would provide you with 60g every hour:
2 gels (~25g carbohydrate each) and a small amount of sports drink
1 gel and a bottle of sports drink (~30g carbohydrate)
1 energy bar (~40g carbohydrate) and half a bottle of sports drink
If you predict your race to take you no longer than 75 minutes, then there is some evidence (some being conducted at Leeds Beckett) to show that simply rinsing the mouth with carbohydrate solutions can benefit your performance.  Receptors in the mouth respond to the presence of sugar and send signals to the brain. They have been found to increase motivation and help endurance athletes keep going even when the solution isn't swallowed.
This might be a good strategy is you struggle to consume food during the race, but make sure you still replace fluids lost is sweat to avoid dehydration.
Tom Bishop: I like to try and take a gel or sports drink early into the bike leg. However, due to the demands of the race tactically and technically, I feel it best to prioritise the race situation. If possible, I try and take on about 750ml of sports drink (glucose+fructose) and maybe 1 or 2 gels before the run.
Hydration: 
If you are a slower athlete, drinking to thirst should work fine as a hydration strategy. If you are going a bit faster, it's good to have a plan.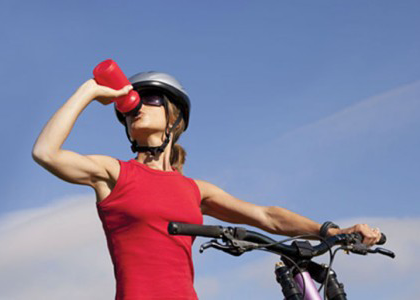 Depending on your body size, and the environment you are racing (which will dictate sweat rates), the fluid plan that suits most athletes is to consume of 400ml-800ml per hour, although this needs to be customised to your individual tolerance and experience, your opportunity for drinking fluids and the benefits of consuming other nutrients (e.g., carbohydrate) in drink form.  A key message is don't drink excessively and use common sense.
Missed part 1? Click here for what to eat before the event
Dr Lauren Duckworth, Sportsister
The Women's Sports Magazine
Dr Lauren Duckworth is a Senior Lecturer in Sport & Exercise Nutrition, working within the Carnegie Faculty at Leeds Becket University.
Save
Save
Select a sport
Find out how to get started, training plans and expert advice.