#RoadToRio: Meet sailor Alison Young
Meet Alison Young, the 28-year-old who made history when she became the first British woman to become a world champion in a solo dingy class earlier this month, winning gold in the Laser Radial class at the World Championships in Mexico. Young, who finished fifth at the London Olympics, will be competing in the ISAF Sailing World Cup in June on the south coast of England as she prepares for her second Olympic Games in Rio.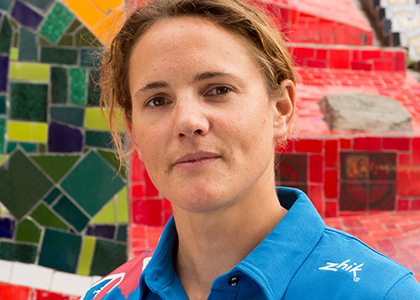 Photo credit: Andre Bittencourt, British Sailing team
How important is this event ahead of the Olympics in Rio?
The Sailing World Cup in Weymouth and Portland is really important – it's the last major event before the Games, and I'm sure the majority of the top girls will be competing so it will be a really good opportunity to measure yourself up, see what progress you've made over the last few months and make any final adjustments. Being on form at the World Cup is great preparation as we go into the Games.

How does racing in Weymouth compared to Rio?
Everything is just more extreme [in Rio] – the wind shifts are bigger, the tides are more extreme, you can have a huge variety of conditions.  We've been there in 25 knots and just five knots, so it can really throw anything at you.

Photo credit: OnEdition
What will be the biggest challenge at the Sailing World Cup?
I expect it will be hard racing – as is always the challenge with the Laser Radial fleet and there will probably be six or seven girls fighting it out.  The standard will be really high and you'll need to be on your game.
Who is your main competition at the event?
I think we'll have the usual protagonists out in Weymouth – the likes of Evie Van Acker (BEL), Marit Bouwmeester (NED), Anne Marie Rindom (DEN) – but there are six or seven girls who will be scrapping it out there to win.
How important is it to have supporters cheering you on at the shore side during races?
It's a great boost when you're in Weymouth and you see lots of familiar faces. Everyone is really encouraging and willing you on when you're racing. In previous years we've had lots of local support for the medal races, which is a boost for us and is a great opportunity for people to come down and see what Olympic sailing is all about and what it takes to perform in that environment.
Part of UK Sport's National Lottery backed #EveryRoadtoRio, the ISAF Sailing World Cup (6-12 June) is the final international event ahead of the Rio Olympic and Paralympic Games.
Sportsister
The Women's Sports Magazine

Get your tickets to the weekend's medal races and try out activities including dinghy sailing, windsurfing and stand-up paddle boarding, alongside cheering on the British Sailing Team as take on their Rio rivals on home waters. https://2016sailingworldcupgb.eventbrite.co.uk  
Select a sport
Find out how to get started, training plans and expert advice.