Find the perfect sports bra – our guide
A well fitting, supportive and activity appropriate sports bra is as essential as the right running shoes, get it wrong and it could ruin your session. This guide provided by the experts at Boobydoo should help you choose, but if you're still not sure you can live chat to a specialist online at the website – www.boobydoo.co.uk
A-C CUP
Shock Absorber Ultimate Run Bra (below left)
This is the most reviewed sports bra specifically designed for running. It minimises breast movement by 78% and has a clip at the back between the shoulders to stop straps slipping down. Maximum support for endurance or short runs. Many  Boobydoo customers use it for triathlons as well as it has a quick dry fabric and works well under a swimsuit or trisuit. (in the mid season sale at 20% in seasonal colours, black neon)
Sizes: 32-38 A-G
Price: from £31.96
Buy: www.boobydoo.co.uk
Anita DynamiX Star Sports Bra (above right)
Possibly the softest, lightweight and high impact bra the team at Boobydoo have tried! Great for comfort, it has a racer back, but a hook and eye and strap release system for easy on and off. A luxury buy at the price, but absolutely worth it when it is on.
Sizes: 32-38 A-F
Price: £52.00
Buy: www.boobydoo.co.uk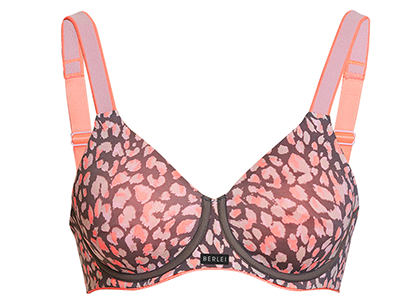 Berlei High Performance Sports Bra
Serena William's favourite sports bra, it is wearable all day at work and then out for a run, with total comfort and support. Multiway straps give you plenty of top options. This is underwired so a good option if you like the extra support, plus it comes in four colours. See our Sportsister tried and tested article here.
Sizes: 32-40 B-E
Buy: www.boobydoo.co.uk
D-F CUP:
Shock Absorber Ultimate Run Bra (pictured above left)
This is the most reviewed sports bra specifically designed for running. It minimises breast movement by 78%. and has a clip at the back between the shoulders to stop straps slipping down. Maximum support for endurance or short runs. Many  Boobydoo customers use it for triathlons as well as it has a quick dry fabric and works well under a swim or trisuit. (in the mid season sale at 20% in seasonal colours, black neon)
Sizes: 32-38 A-G
Price: from £31.96
Buy: www.boobydoo.co.uk
Panache Ultimate Sports Bra (below left)
This is one for double bra wearers – this underwired sports bra will make you drop that second bra! Perfect for women with a D+ cup,  the super smooth shape and flat seams work to accent your silhouette, not flatten it. No matter the sport or activity, this bra will reduce breast movement by up to 83% and the light weight microfiber fabric wicks moisture away from the skin to keep you dry. Available in plenty of colours, it is a favourite with our boobydooers.
Sizes 30-40: D-J
Price: From £38
Buy: www.boobydoo.co.uk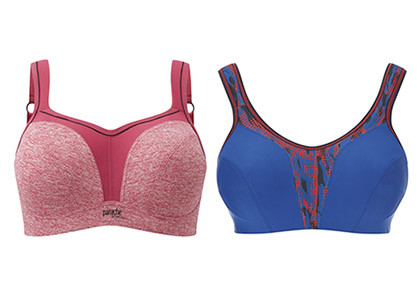 Freya Active Soft Cup Sports Bra (above right)
A new design for Freya Active, but one that gives you complete support, cup separation and a non-wired design. Freya are well renowned for their expertise in supporting D-K cups, and this bra is going to be a winner.
Sizes: 30-40 D-GG
Price: From £28.80
Buy: www.boobydoo.co.uk
FF+ CUP
Enell Sports Bra (below)
Becoming world famous after it appeared on Oprah, this sports bra has a lustrous finish, but is a mean machine when it comes to support for D+ cup sizes. Catering for 30-56 band size and D-H cup, this bra will help you feel confident when running, jumping, skipping or Zumba-ing! Available in many colours, this season's latest is the fabulous Biscay Green.
Sizes: Follow this link for the sizing guide
Price: £46.00
Buy: www.boobydoo.co.uk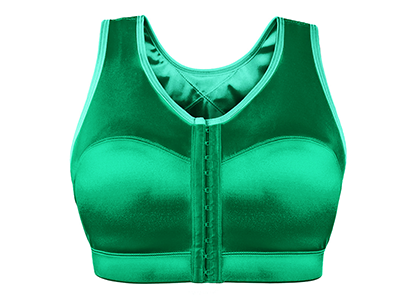 Shock Absorber Multi Sport Support Bra (below left)
Our most reviewed, 5 star sports bra from Shock Absorber is a perfect high impact option for running, gyming or equestrian. It has the widest size range, being suitable for sizes 30-40 B-HH.
Sizes: 30-40 B-HH.
Price: From £26.40
Buy: www.boobydoo.co.uk

Freya Active Moulded Sports Bra (above right)
This sports bra will take you through anything from yoga to a 10K run. To give you maximum support,
this bra was given a firm, flat bottom band and wide curvature wire. The centre-back straps prevent strap slippage, while the COOLMAX inner supports by encapsulating the breast rather than traditional compression (no uniboob happening here). In Racing Red, it is 20% off with a 20% off matching running shorts when bought together.
Sizes: 30F – 38GG
Price: From £38
Buy: www.boobydoo.co.uk
Sportsister
The Women's Sports Magazine
Select a sport
Find out how to get started, training plans and expert advice.