High and Mighty – Lara Dunn visits Val Thorens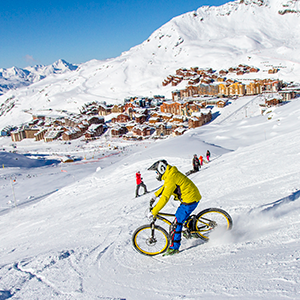 Lara Dunn heads for the highest ski resort in Europe for some skiing and a few other activities besides.

Photo credit: Funitel de Peclet – C.Cattin
There are a whole raft of very good reasons that so many people return to Val Thorens year after year after year for their winter holiday. Perched at a lofty 2300m in the Tarentaise, Val Thorens is the highest ski resort in Europe and as such has a far longer and more snow sure season than most.This year the resort doesn't close until May 8th!

Photo credit: Val Thorens – Lara Dunn
The reliability and quality of its snow is matched by the accessibility of the pistes. Much of the accommodation is ski-in ski-out and the majority of the rest is just a short walk from the snow. In addition to this, the structure of the ski area and town really lend themselves to skiiers or boarders of any level being able to enjoy the area easily and with minimal stress.
It's a straightforward (or rather somewhat zig-zaggy) exercise to traverse the whole resort, covering top to bottom, via just blue runs, and it bestows a genuine feeling of achievement, not a fob-off as with some resorts that favour the more hardcore snowsports enthusiast.
Val Thorens is a paradise for the relaxed skier, with – albeit somewhat pricey – mountain cafés and restaurants aplenty, perfect for punctuating a day of cruising about. Pretty much all the runs funnel down into a central area, making it an easy and relaxed affair to meet up with friends of different ski levels.
But it's not just skiiers and boarders that can appreciate being in Val Thorens. For those whose interests range beyond traditional snowsports, or for rest days, there are plenty of alternative activities. Both driving on the ice and diving under the ice are options, as are Segway rides on the snow. There's a long purpose built tobogganing run, a zipwire starting at 3230m, snowshoeing and snowmobiling.
Intrepid mountain bikers can enjoy a guided snowy descent from high up in the resort, after the pistes have closed while yoga fans can enjoy their practice out in the fresh mountain air.
For those looking for a more relaxing experience, there are a number of excellent spas including the luxurious L'Occitane spa at the Pashmina and the Pure Altitude spa at the Altapura, both five star hotels.
I've had plenty of variety in my skiing since I arrived here and I've not even bothered to venture over to the 3 Vallees connection to access the largest linked ski area in the world with its massive 600km of runs, but it's a big draw for many more accomplished (for that read "faster") skiiers than I. Val Thorens alone is enough for my needs.
Out on the pistes I've had a great day, cruising happily on a varied collection of blues, all easily linked together, the afternoon fuelled by an overindulgent lunch of tartiflette. That said I'm still looking forward to dinner later on at John's Restaurant, a marvelously incongruous experience of real Scandinavian cuisine cooked here in France, but boy does it work. Food is something Val Thorens excels at, with more than 60 restaurants meaning there's something to please most budgets, all the way up to Michelin stars.
Find out more: www.valthorens.com
Lara Dunn, Sportsister
The Women's Sports Magazine
Select a sport
Find out how to get started, training plans and expert advice.