Weekly Women's Sports News – April 18
This week, qualification for Rio makes the headlines as GB swimmers and boxer Nicola Adams secure places. Elsewhere weighlifters Rebekah Tiler and Zoe Smith battle it out for the only TeamGB place. At the latest Rugby 7's World Cup, England secured their first victory of the tournament and at home FA cup final places have been secured for Arsenal and Chelsea.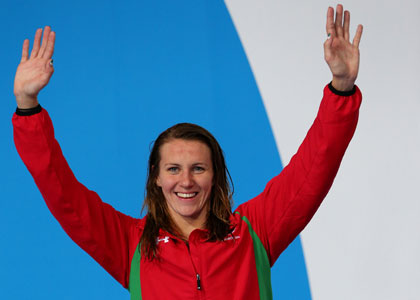 Rugby 7's:England beat New Zealand to win in Canada
England claimed their first series tournament of the season with a 31-14 win over New Zealand in Canada on Sunday. It was the first time this season that Australia didn't win a round, having claimed top prize in Dubai, Sao Paulo and Atlanta, as the girls in gold were beaten by England in the semi-final.
Another thrilling women's sevens series final saw England and reigning champions New Zealand battle it out in beautiful conditions in British Columbia with a first half that contained no less than five tries and England lead 19-14 at the break. Full story via World Rugby
Swimming: Swimmers qualify for Rio at British Championships
Jazz Carlin (above) was on cloud nine after picking up her fourth consecutive 400m freestyle gold at the British Swimming Championships in Glasgow and crucially making the Olympic qualifying standard in her final race of the meet.
Elsewhere Hannah Miley booked a place at her third Olympics after beating English rival Aimee Willmott in the 400m individual medley to finish in four minutes 33.40 seconds. Two-time Olympian Fran Halsall picked up her 11th British 50m freestyle title although she faces an anxious wait when it comes to Rio as she was 0.11 seconds short of the qualification standard. Siobhan-Marie O'Connor (200m individual medley) also secured an Olympic place. Full story via the BBC
Climbing: Shauna Coxey wins first World Cup of the season
Shauna Coxsey returned to her winning ways as the best Bouldering athletes in the world competed in Meiringen, Switzerland this weekend. Coxsey starts the season exactly as she ended the last one, with a great victory. Second place for the French athlete Melissa Le Neve, followed from Megan Mascarenas (USA). Full story via IFSC
Boxing: Nicola Adams wins gold at European qualifying event
Nicola Adams won a gold medal at the European qualifying event in Turkey and with it an Olympic place. Full story via the BBC
Women's FA Cup semi-finals: Arsenal Ladies 7-0 Sunderland Ladies
Arsenal beat Sunderland to reach their 15th Women's FA Cup final, despite having 10 players for much of the game.
Women's FA Cup semi-finals: Chelsea Ladies 2-1 Manchester City Women
Holders Chelsea reached the Women's FA Cup final with a last-gasp goal from Fran Kirby to earn an extra-time win over Manchester City.
Full stories via the BBC

European Weightlifting Championships: Tiler and Smith win bronze medals
Rebekah Tiler won three bronze medals at the European Weightlifting Championships whilst Zoe Smith won a single bronze medal. Both are competing for the only possible place for Rio and Smith described her performance as "disappointingly lacklustre". Full story via the BBC
Para-dressage: Christiansen and Wells win in France
Paralympic gold medallists Sophie Christiansen and Sophie Wells started their international seasons with success at the International Para-dressage competition in France. Full story via the BBC
Sportsister
The Women's Sports Magazine
Select a sport
Find out how to get started, training plans and expert advice.