#RoadToRio – Meet weightlifter Rebekah Tiler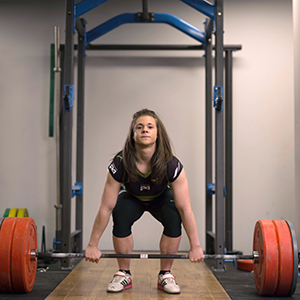 17 year old Rebekah Tiler is one of one of the UK's best weightlifters. She finished 4th at the Commonwealth Championships last year and is the youngest ever British Record holder for the Clean and Jerk. Rebekah is aiming for Rio, Tokyo and beyond.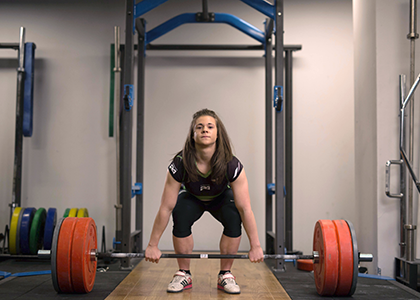 Training
"Most of my training is in the gym, focusing on technique and strength. I do a lot of core work and a little bit of cardio. My training doesn't vary enormously and we don't really have an off-season so it 's all geared to when the competitions are.
Mostly I use my back and legs for lifting, the arms don't really need to be that strong, they are just the levers. I suppose it's maybe better to be shorter, I am about 5ft 4 and lots of the competitors are quite compact.
I train everyday around my college work and then go to Loughborough for intense two day training on Tuesdays and Wednesdays, at weekends I am either competing or on a training camp, so its pretty full-on."
Travel
I love the travel – it's brilliant seeing how other people live and how they train. I've been to so many places now, Peru, Sweden, Hong Kong and really enjoyed going to Malaysia. I love training alongside girls from Russia and China, it's great meeting people from all over the world!
Getting started
"I was a sprinter before I got into weightlifting. When I was at primary school, one of the teachers recognised how fast I was because I was beating all the boys. I went to a club and really enjoyed that, but then I went to a gym to get stronger and someone there recognised my ability.
I was about 12 when I was told I could be a world class weightlifter."
Recognition
"It's brilliant to get weightlifting on the TV, I've done a few things for the BBC now, including newsround which was great. It's not seen as a natural sport for girls, so I love helping raise the profile.
I get a fair bit of coverage locally which is great and I get recognised in the street now, which is cool. I've never had a negative response at all, I've always had a great response from the people around me, my school teachers were really proud and all my friends were really supportive and keen to give it a go themselves. "
Staying healthy
"I have a nutritionist who helps with my diet and I am sponsored by Herbalife, so I get supplements to help keep me healthy. I eat really well and am also sponsored by my local butcher, so I get all my chicken and eggs there.
It's quite hard to manage my diet when I am travelling, last year the Worlds were in Houston where the food was amazing and plentiful and I had to be so disciplined. But I've got lots of people around helping me stay focused.
I haven't had any major injuries yet – I am so lucky, I have a whole team surrounding me and any niggles are soon sorted out by a physio."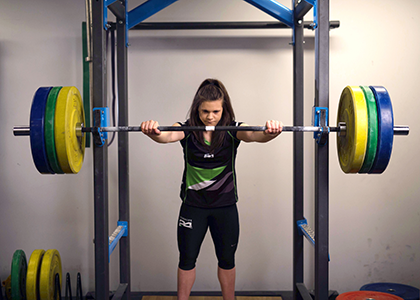 Qualification
"I came 13th at the world champs so I haven't qualified yet, there's another competition coming up, but whatever happens, we only can qualify one place and that would mean either me or Zoe Smith which is such a tough one.
My coach is really aiming for Japan 2020, but obviously I would love to go to Rio too. I've got lots of other events coming up this year though including the The World Youth Championships in November."
Danielle Sellwood, Sportsister
The Women's Sports Magazine
Follow Rebekah on twitter: @rebekahtiler
Select a sport
Find out how to get started, training plans and expert advice.