Aimee Fuller – life on the snowboard circuit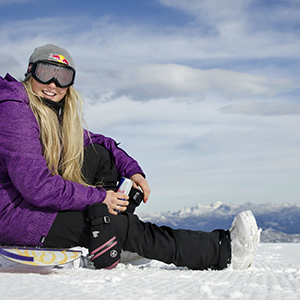 It's almost two years to the day that snowboarder Aimee Fuller won legions of fans during the Sochi Winter Olympics. And it was not just her boarding skills we loved, but also her infectious commentating style that helped shake-up the coverage and bring a fresh new audience to the BBC's Olympic coverage.
So what does day-to-day life look like for a pro-snowboarder ?
Lots of travel
"During the season, I travel almost constantly, it's crazy but also an amazing life to lead. On average I take part in about 6-8 contests a season and they are all-over the world. At the moment I am off to Sweden for the Big Air Festival which will be awesome and then I'm off to South Korea which will be really exciting because I've never been there"
Big Air V Slopestyle
"The event in Sweden is a Big Air contest which is different to what you saw in the Olympics. It involves just one big jump rather than a series and the idea is that it's bigger, faster and more dynamic. But it's also harder in some ways because it's all about executing one amazing jump, so you have to go all-out.
I love both Big Air and Slope style and practice for both because Big Air is going to be included in the next winter Olympics in Pyeongchang (South Korea).

Above: Slopestyle run 
Pre-event preparation
"The jumps do look pretty crazy, but we practice and train really hard, nothing is left to chance. I work a lot on general fitness and being strong, so I have a strength and conditioning coach for gym work and I run 2-3 times a week on top of actual slope time.
I am also really into my nutrition and make sure I eat all the good things like sweet potatoes, almond butter, lots of vegetables and lean proteins. It can be a challenge when I am travelling, but I carry a lot of food with me and am really pretty organised.
Before a competition run I do like to drink a can of Red Bull, it's genuinely what I need, as it helps me focus and gives me the boost I need to really go for it."
Off-season fun
"I love what I do, but I also love the off-season when I can head somewhere hot. I actually hate being cold and have had to come-up with strategies to help me stay warm on the slopes, so the opportunity to go surfing somewhere and feel the heat of the sun is ace. Surfing makes a great cross-training sport too and brings a different element to my off-season training.
Check out Aimees Day In The Life Video:
Danielle Sellwood, Sportsister
The Women's Sports Magazine
You can follow Aimee on twitter at: @aimee_fuller
Select a sport
Find out how to get started, training plans and expert advice.