Six months to Rio: Pole Vaulter, Holly Bradshaw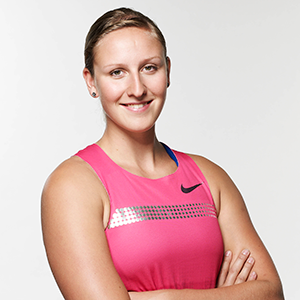 Holly Bradshaw is Britain's best female pole vaulter and currently holds the British record. A back injury made 2013 a write-off for her and last season was cut short when it became clear that the injury had not subsided. Nonetheless, Holly is back on track and is hoping to medal in Rio. Read on to see how she got into pole vaulting and what's in store for the six months before the Olympics…
Pole vaulting is a very niche sport, how did you get into it?
It is niche, you don't do it in school and not many clubs around the UK do it either – it's quite a funny story; I was already at my club, Blackburn Harriers and they didn't have a single pole vaulter. We kept going to matches and wouldn't get any points in the pole because we didn't have anyone doing it, so a few people learnt the basics to get over the opening bar and get the minimum amount of points. I took to it really well and Julian, the coach who came down to the taster class asked me if I wanted to go down to Manchester to give it a go – I did and it went from there.
I formally started training for it when I was 17. Most people usually start pole vaulting when they're much younger, but athletes peak between 30 and 34 years-old because there are girls in the top five in the world that are 35. It's very much an event where the more you do it the technically better you get. So that gives me hope that although I've had a couple of years off with injury, I'm still young and set up now to have a long career.
Has your injury changed the way you train?
I'm training in a more conservative manner – we're still getting the good work in but we're doing it in a more controlled manner and not putting my weak spots under pressure. Saying that, I don't go into every training session thinking 'I could hurt myself today' because I'm optimistic and I like to live in the moment, take everyday as it comes and not dwell or think negatively.
What advice would you give to other people who are competing in less mainstream sports?
Keep going and don't be afraid to try other sports. I know kids get dragged into rugby and football but some of the less mainstream sports are really quite fun and quirky and pole vaulting is crazy so people should go out there and try whatever they want.
How has doing a degree in Sport Exercise and Science helped you with your training?
I have a broader mind with how to attack the sport. I'm studying sports injury and I can relate it to myself – it helps me in my assignments and it gives me a clearer picture. I'm so glad I'm still studying because it gives me another area of my life to focus on away from my pole vaulting.
What does the six month countdown mean for you in terms of your training?
I enjoyed London so much, so it's quite exciting and I can't wait to compete at another Olympics because it's the pinnacle of sport. Rio has always been my focus since I started back to training in October so I'm not changing my training or anything like that, I'm just staying focused on the end goal which is to bring back a medal.
I'm going on a training camp in America for six or seven weeks which will be intense. It's impossible to pole vault outside in the UK in winter so we can get some good pole vaulting done outdoors which will be fun.
Holly is supported by the Sky Academy Sports Scholarship scheme, helping young athletes fulfill their potential on the international stage and achieve their goals for Rio 2016: skysports.com/scholarships
Sacha Shipway, Sportsister
The Women's Sports Magazine
Select a sport
Find out how to get started, training plans and expert advice.