Three great bike events to take part in this spring
There are bike rides galore going on all over the UK, so if you're looking out for something to take part in then why not do it for charity and raise some much needed funds at the same time.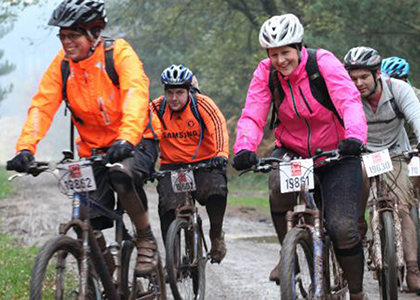 Peak District Mountain Bike Challenge
When: 12 March
Where: Peak District, Derbyshire
Entry: £23
More details: www.bhf.org.uk
Choose either 38 or 80k routes on this mountain bike adventure. Set in Hope Valley in Derbyshire, see if you can conquer the technical route and rocky terrain of one of the toughest off-road rides in the UK.
Listed as grade four in difficulty, this is a tough, technical ride where you'll be faced with several climbs and rocky descents. It'll all be worth it when you heroically cross that finish line knowing you've helped to fund research that saves lives.
Marie Curie Etape Caledonia
Date: 8 May
Location: Pitlochry, Perthshire, Scotland
Entry: From £71.43
More details: www.etapecaledonia.co.uk
The idyllic town of Pitlochry welcomes cyclists from across the UK and beyond all embarking on this epic 81-mile route. You'll  take in the beauty of Loch Tummel and Ranoch before approaching the famous climb of Schiehallion which will reward you  with panoramic views across the valley.
With fundraising an integral part of the event, many cyclists opt to take part in the 81-mile epic on behalf of Marie Curie. Joining the iconic 'Team Marie Curie', more than 1,000 fundraisers accumulated £300,000 through Charity Pledge Places for Marie Curie in 2015 alone
Cotswolds Bike Ride
Date: 15 May
Location: Cheltenham and around the Cotswolds
Entry: £10
More details: www.bhf.org.uk
This massively popular bike ride around the beautiful Cotswolds countryside is great for families and groups. Choose from the 30 or 50 mile route and enjoy a fantastic day out with like-minded cyclists! Your entry fee covers the cost of organising the event. It's the money you raise that powers the life saving research. Note: Riders aged 16 and under must be accompanied at all times by an adult.
Sportsister
The Women's Sports Magazine
Select a sport
Find out how to get started, training plans and expert advice.