How to choose the right trail running shoes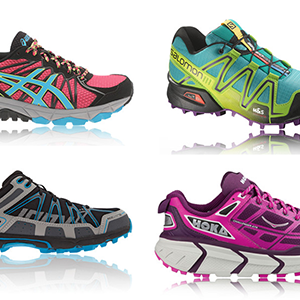 Running shoes specifically designed for trails are the most essential piece of kit for anyone looking to expand their running into off-road territory. The terrain you tackle on trail runs can be very slippery, steep, muddy and extremely uneven.  Trail shoes have to keep you safe; they are key in helping you stay upright and balanced, they should help reduce the impact on your legs and feet and protect you from sprains and strains.
With so much relying on your running shoes, it's crucial you get the right pair. These tips from trail experts Sportsshoes.com will help you decipher trail shoe terminology and give you a better understanding of what you and your trails demand from your trainers:
Get a Grip
Your shoes grip and traction are essential if you want to avoid nasty falls. Trail shoe outsoles feature deep, mud shedding lugs for added traction on challenging surfaces. Lugs vary in their degree of grip – for beginners testing out conservative trail routes you can find shoes with smaller lugs that provide moderate traction.  Advanced fell runners typically wear deeply lugged, metal tipped fell shoes, which provide maximum grip on sharp slopes and mountain scree.  Some trail shoes also feature sticky rubber outsole compounds which grip well on wet rock.
When choosing your trail shoes, think about the kind of grip your route requires. Does it include a mix of tarmac and trail? How steep and loose are the inclines? Will an element of tarmac wear down deep lugs too quickly?
Keep a Low Profile
Negotiating rough and uneven terrain de-stabilises the foot and increases the risk of turning an ankle. As such, trail and fell shoes tend to have a lower profile, i.e. they are more pared back to keep your foot closer to the ground. This design increases stability, ground contact and response, allowing you to adapt quickly on unpredictable terrain.
Use Protection
Compared to tarmac, trails are considered to have a softer impact on your running gait. As such, trail shoes tend to have a minimal amount of cushioning, however they still need an element of shock absorption. The nature of trails – sharp rocks, stones, protruding roots etc. – mean that trail trainers tend to include a plate or shield in the midsole for additional protect. To avoid painful toe stubs, trail shoes tend to also have reinforced toe bumpers.
Lock Down
Trail running can mean sharp turns and fast lateral movements. To find shoes that will keep your feet locked securely in your trainers look for uppers (literally the upper part of the shoe) which integrate reinforced overlays with wrap around lace wraps that will cradle and secure the foot.
Stay Dry and Comfortable
Wet, soggy feet are generally a running no-no, but difficult to avoid when running on wet muddy trails. Look for waterproof uppers such as Gore-Tex membranes which allow the shoe to breathe, but keep water out. Trail runners who regularly encounter deep, over-the-ankle water (i.e. running through streams) should actually look for non-waterproof shoes that are instead fast drying with open mesh uppers to prevent water being trapped inside the shoe. For extra comfort, also look for anti-debris mesh, and tongues designed to keep out irritating stones and other debris.
A visual guide
Salomon Speedcross are a good example of trainers with deep lugs. The rubber grips on the bottom of the shoe are designed to give monster grip on steep and loose ground. Deep lugs will wear down quickly on tarmac so think about the kinds of surface you run on the most.
With shallower lugs, the Asics' Fuji-Trabuco range demonstrates the kind of grip to look for if you run on tarmac as well as trails. Choose a shoe with a moderate grip and good durability which can cope with both on and off road conditions.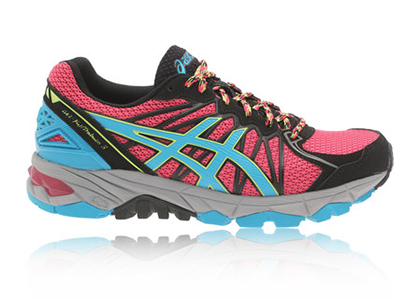 Hoka One One are making some exciting innovations to the trail shoe scene with a very different breed of trail shoe. Whilst they diverge away from the traditional low profile, the shoes' deep cushioning and lightweight design are garnering strong reviews.
The Inov8 Roclite range is one of the most illustrious trail shoes among hardened veterans and newcomers alike. With a very low profile (the heel is just 6mm) and a Met-Cradle and synthetic overlays in the upper to hold the foot in place, it's suitable for both long distance races and as an introductory shoe to minimalist trial running.
Salomon's XA Pro series with 3D Gore-Tex provide a nice waterproof option. The water resistant upper provides protection against the elements and the tongue cover reduces the risk debris entering your trainer.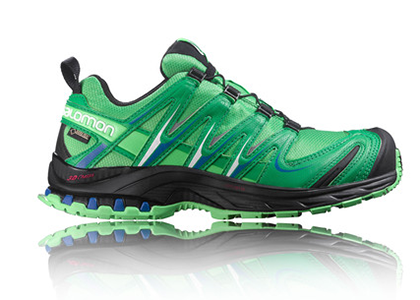 Sportsister
The Women's Sports Magazine
Select a sport
Find out how to get started, training plans and expert advice.