Expert advice: Indoor rowing tips from GB rower Jess Leyden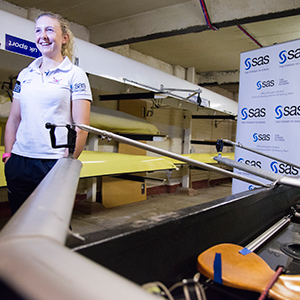 Indoor rowing is an essential part of GB rower, Jess Leyden's training programme, but we can all benefit from this super-efficient work-out. In this article Jess shares with us her tips for an effective workout as well as a couple of simple sessions to try.
Indoor rowing one of three types of training we do, alongside actual rowing and also gym sessions. It's a massively important part of our training, not just for when we can't get on the water (bad conditions) but because it is just so much more intense and we get a lot of fitness out of it in a shorter space of time. It's really easy to monitor our fitness too as there are no external forces affecting the session, so in that sense it's really pure – the erg never lies!
Training sessions
We generally use monitors to assess our work rate, so for example we might do 18km at a heart rate of 160 which would be broken down into three sets of 6km. We would do this at a fairly steady, but sustained pace, rather than really pushing hard as it's quite a long session and takes around an hour and a half!
A shorter session that takes just half an hour is to warm up and then row solidly for 30 minutes with each movement being as hard as you can do. It's tough! You obviously need to get through the session, but ideally you should be exhausted at the end. It's a really efficient session if you can manage it and if you track how far you rowed then you can try and beat that target next time.
Technique
Best technique comes from separating the movement into two sections. So starting at the front  (catch) you just push back with your legs (drive, image below) and not use your arms at all until you can't push anymore.
Then open up your back and finish off with your arms (finish – image below). You then reverse the movement, so starting with the hands away first, then body over and back to the start (recovery – image below).
The movement is mainly about the legs, you want to be thinking about moving the machine away with your legs rather than using your arms. Once you've got up to speed with the legs the upper body really just helps control the movement.
Don't lean back too far and definitely don't do a sit-up type movement! The important thing is not to try and go really fast, but to do a controlled and steady movement.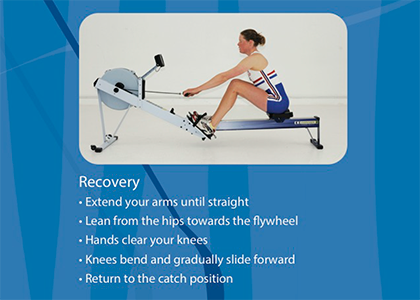 If it's a really long session, to stop myself getting bored I sometimes listen to music but generally I focus on my technique. It really helps if you train with a friend or friends too, if you can get a small group all rowing in unison it's a really great feeling.
Danielle Sellwood, Sportsister
The Women's Sports Magazine
Jess Leyden was speaking on behalf of SAS – the leader in analytics software and services. SAS is the Official Analytics Partner of British Rowing and the GB Rowing Team at www.sas.com
Select a sport
Find out how to get started, training plans and expert advice.