Event review: GEICO Rock 'n' Roll Las Vegas Marathon & half Marathon
Bridget Robinson heads Stateside to attend a friend's Run-Thru Wedding during the GEICO Rock 'n' Roll Las Vegas Marathon & ½ Marathon.

Above left to tight: Vicky, Lisa, Bridget
The race began at sunset with flames shooting high above the start line where 30,000 runners had assembled for the marathon and half marathon. My running buddy Lisa and I had been invited to Las Vegas to attend our friend Vicky's wedding and had jumped at the chance to run 13.1 miles in black cocktail frocks and feather fascinators. Vicky's fiancé John's concession to tradition was to pin a buttonhole to his race T-shirt and the bride looked stunning in a snow-white tennis dress sprinkled with pearls and sequins. We were amply fuelled for the nuptial run, having carbo-loaded on mountains of pasta at Carmine's at Caesars Palace the night before, and brunched that day at Lago, a restaurant where Bellagio's fountains dance by way of backdrop.
Tying the knot
A white balloon arch at mile three was our cue that we'd arrived at the Run-Thru Wedding Chapel where about 200 couples were due to get hitched or renew their vows. While waiting for the various wedding parties to arrive we spotted a super-fit bride and groom lying on the ground having a plank competition!
Just as the ceremony started it began to rain but everyone was so happy to be there celebrating such a joyous occasion that it failed to dampen our spirits. The marriage pronouncement was followed by an enormous blast of white confetti that, for a moment, rivalled the raindrops. After hasty congratulatory hugs and hurried photos we resumed running along the Strip, the famous stretch of Las Vegas Blvd that's home to no fewer than 15 of the world's 25 largest hotels.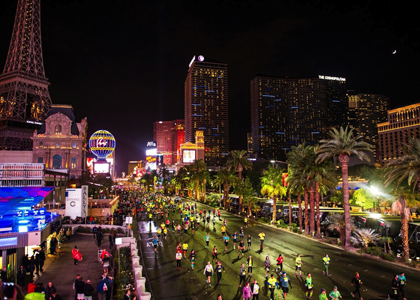 Bands on the run
Fortunately there was plenty of live musical entertainment along the route to keep our strength up as the unseasonably icy wind tugged at our flimsy outfits. Passing Planet Hollywood I recalled Britney Spears singing Stronger at the concert we'd attended a couple of nights before. As the race wore on we got colder and colder and at one point I was sorely tempted to sneak off to our hotel, the nearby Downtown Grand just to spend a few minutes in the lobby bar warming through. Instead, I begged a bright blue garbage bag from a water station volunteer and jauntily tied it around my neck to help ward off the chill. At the entrance to the Downtown Container Park a gigantic Praying Mantis sculpture thrilled us as it suddenly shot flames six storeys high from its antennae – all that lovely heat squandered into the night sky!
Grand finale
Doubling back along the Strip after mile nine we ran past a host of wedding chapels, pawn shops and dreary motels. This section was in stark contrast to the swish hotels such as The Cosmopolitan and the Delano we'd passed earlier where we planned to have a recovery massage and toast our running exploits with a cocktail or three the next day. Talking of toast, one of the Vegas crowd urged us onward with a sign that read
'I'm going to call you butter, because you're on a roll'!
For the final mile the finish line at The Mirage hotel beckoned from a distance. But its proximity was deceptive and, true to its name, it continually seemed to be just out of reach. Finally, the race, which had started with fire, ended with a bang, in the form of the exploding lava of The Mirage volcano.
Bad points
Rain and a bitterly cold wind buffeted us for much of the latter part of the race. The chances of the weather being this bad for future runs is low however because Las Vegas is situated in the Mojave Desert and is one of the driest cities in the US.
Some slower runners opted to start in corrals further ahead than they should have and as a result some runners were slowed down by having to weave through them to get by.
There was a very long walk to the exit after crossing the finish line but being able to choose from a large variety of snacks on our way kept us entertained.
Good points
Running along the brightly lit Strip at night offered a rare opportunity to see it without any traffic – the only other time it's closed is for New Year.
The race medal is the ultimate Vegas souvenir: a colourful fruit machine with revolving numbers.
Vegas is an ideal holiday destination as there's no shortage of adrenaline-inducing activities on offer. The SlotZilla zipline lets you fly like a superhero high above the Freemont Street Experience in downtown Las Vegas, while Pink Jeep Tours are a fun way to explore the spectacular rock formations of Red Rock Canyon. A Maverick Helicopter Tour is thrilling and provides a birds eye view of the race route.
More info: The next Rock 'n' Roll Las Vegas Marathon & ½ Marathon will take place on 13 November 2016.
To enter, visit: www.runrocknroll.com
Bridget Robinson, Sportsister
The Women's Sports Magazine
Select a sport
Find out how to get started, training plans and expert advice.