Event review: The Cardiff Burn
We were almost in November, the time of year when most triathletes and multisports aficionados start to hibernate away from open from water and get their kicks from running, duathlons, mountain biking or even heavy couching. But there I was in Cardiff, ready to tackle the Cardiff Burn. The weather was gorgeous and clear but the shining sun did not quite manage to hide the sharp bite of the cold, we were definitely coming on to winter.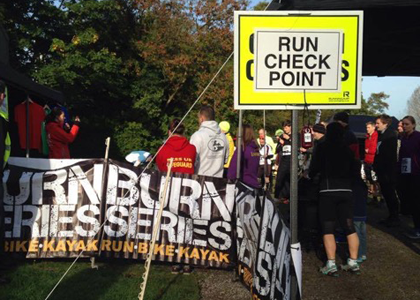 Having done two Mini Burns with my 8 year old daughter, I was no new comer to these events and both Mini Burns had been so much fun that signing up for their big sister in Cardiff had seemed to make perfect sense. Also, I must admit that I'd figured – slightly perversely maybe – that it would be a perfect birthday present from me to me: I'd entered as a pair with my man and he'd therefore have the pleasure of having to "keep up" with my slower pace on the run.
So did we feel the Burn during any of the three disciplines: running, mountain bike orienteering and kayaking? Read on and find out.
We started off with a 10 km run on a flat loop that took us along the public footpaths and parks that border the river Taff. We passed a few people going about their Sunday business, taking the kids along the river or playing footbalI in the parks. I loved the rural feel of the run which was totally traffic-free and included some unpaved tracks with just enough muddy spots and nettles to justify wearing light trail shoes. I set off way too fast and paid for it big time, with what was almost certainly one of my worst running performances. It's at times like these that you can put your sweetheart to the test and I'm proud to say that mine didn't even sigh or start walking as I was dragging myself along the last few kilometres, huffing, puffing and feeling like death.
Finally, to my incredible relief, we made it to our bikes and were off with the firm intention of making up time lost because of my poor pacing on the run. Map firmly in hand and compass around the neck, we set off in search of the holy grail of mountain bike orienteering: finding 10 checkpoints located in various spots of the surrounding countryside. In actual fact, you only need to "punch" one of the ten checkpoints but there are various time penalties assigned to each missed point. Of course we'd decided to try and punch them all, if only to discover as much of the area as possible.
We were not disappointed, our itinerary took us along bike paths, small roads, forests tracks and bridleways which we would never have all visited if we'd just come there for the day. My favourite bit was the climb up to Castle Coch, followed by another climb immediately after. That second climb followed forest paths and tracks (where we did need to push the bike in places).
Third favorite was no doubt a long downhill section on a disused road where we crossed other competitors going uphill, oh the joys of choosing your own path! All told, we did cycle a bit more than 30 km (around 40), we clearly like to take detours… Our greatest achievement happened halfway through the bike when we managed not to tell each other to get lost: we already were.
Four hours and a half later, we were back and ready to jump on "our" kayak  for a good 3 km paddle up and down the river. Some great volunteers were waiting for us on a small wooden quay, they helped us put on our floatation vests, get in the kayaks and then gave us a good shove to set us on our way. I was delighted to see them waiting to help us out of the kayaks when we came back as my legs felt like they were about to go on strike the moment I tried to stand.
One final short run and we triumphantly punched the last checkpoint and celebrated with a great big sweaty and muddy hug. We were very happy to have finished on the good side of the 5 hour cut-off and learnt after a well deserved shower that we'd come third in the mixed pair category. Great incentive to do better next time!
Our recovery consisted of a lovely meal and a bottle of Prosecco, shared in the knowledge that we'd achieved something as a team, which has made us even closer and we're very proud of it!
Good points
– A fun and interesting course and that takes you through a voyage of discovery of Cardiff and surroundings (up to Caerphilly), you really get to see the best spots of the area.
– The atmosphere, you feel like the Burn team is a big family and they really know how to make you feel welcome
– A rare opportunity to race with my man, which was a great experience, and that's even before taking into account the matching t-shirts! We'll definitely do a Burn race again
Bad points
– One of the orienteering chips being stolen from a fence post
– The stem of his MTB felt the Burn and broke, despite him claiming it an easy ride
– No solo women doing the event
Find out about next years event here: www.burnseries.co.uk
Sophie Rouys, Sportsister
The Women's Sports Magazine
Select a sport
Find out how to get started, training plans and expert advice.