Cyclist, Jess Varnish "I love the head to head of the individual race. I love racing"
With less than a year to go till Rio 2016, expectation is mounting for the Track Cycling team at the World Championships being held in London next March. Sportsister's Danielle Sellwood spoke to sprint ace, Jess Varnish, as the season gets underway.
Rio qualification
For us it's all about qualification at the moment, we've got to get a good balance between training for qualification, but also not burn out in our training for the ultimate goal which is the Games in Rio – it's a fine line.
Qualification is cumulative over two years, it's tough because we are in Europe and we've got to be in the top five to get through and there are a lot of amazing teams.
After New Zealand, there's another world cup in Hong Kong and we'll go if we need the points, but we won't travel to Hong Kong if we don't need to.
Even if we do qualify, we are only qualifying a team place, not a place for us individually. We'll only really find out a couple of weeks beforehand because there are more people in the squad than needed. So basically the team will be chosen at the last moment so they can send the absolute best at that time.
Team or individual sprint?
They are both very different, I do still really want to achieve in the team sprint, as that's the event I competed in in London. But I also love the head to head of the individual race. I love racing.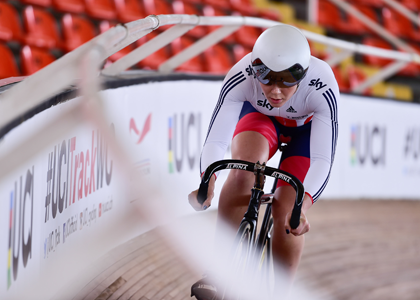 Victoria Pendleton has said you could be better than her!
Well obviously that's lovely, I really look up to Vicky because she has done so much for the profile of the sport. But the reality is that the sport has really moved up and the standard has gone through the roof – it's harder and harder to win now, so we'll just have to see. People are going a lot faster.
There are five girls in the squad, so it's hard even within the British squad. For me though, I just need to train to be the best in the world as that's the only way I am going to get a medal. Being the best in the UK will not be enough.
World Champs in London
I've moved on from what happened in London 2012 [Jess and Victoria Pendleton were disqualified on a technicality], I am just going there to do the best I can. For me it could be anywhere in the world really, obviously it's great to have a home crowd support, but really it's just about the racing for me.
Patience
We are playing the long game at the moment, even the Worlds in London are a bit early for our planning. We've seen a lot of changes in recent years, including a new coaching system, so it's going to take a bit of time to get it right.
Press
We don't really worry about any bad press because we know what the plan is and the reality, so we just don't worry about it. We're a great team and we've got a great support staff, so we just get on with it and hopefully it will all go to plan!
Danielle Sellwood, Sportsister
The Women's Sports Magazine
UCI Track Cycling World Championships – London. Cheer on Great Britain's track stars as they compete against the world's best for the coveted rainbow jerseys and the chance to head to the Rio 2016 Olympics Games crowned as the best in the sport. When: 2-6 Mar. Where: Lea Valley VeloPark, London. Tickets: Adults £15+ Concessions £10+
Buy: www.ticketmaster.co.uk
Select a sport
Find out how to get started, training plans and expert advice.