Christmas gifts for Sportsisters' – #EveryRoadToRio tickets
You don't have to wait until the action begins in Brazil to see your heroes; the UK is hosting a number of outstanding world class events in 2016, many of which have Olympic and Paralympic qualification spots up for grabs. Tickets make a fab gift and the best part is you are justified in buying a pair…one for your friend and one for you!
UCI Track Cycling World Championships

No fewer than three world titles will be up for grabs on each day of competition, when ticket holders can cheer on Great Britain's track stars as they compete against the world's best for the coveted rainbow jerseys and the chance to head to the Rio 2016 Olympics Games crowned as the best in the sport.
When: 2-6 Mar
Where: Lea Valley Velo Park, London
Tickets:  Adults £14+ Concessions £10+
Buy: www.ticketmaster.co.uk
Yonex All England Badminton Championships
Watch history in the making at the stunning new Barclaycard Arena in Birmingham. All the world's best will battle it out for precious Olympic qualification points on the #RoadtoRio at the oldest and most prestigious badminton event, one of the five 'majors' of the sport.
When: 3-8 March
Where: Barclaycard Arena, Birmingham
Tickets:  Adults £14+ Concessions £5+
Buy: www.allenglandbadminton.com
LEN European Aquatics Championships
Over 900 elite European swimmers, divers and synchronised swimmers will battle for champion status at the Queen Elizabeth Olympic Park less than three months before the start of the Rio 2016 Olympic Games.
When: 9-22 May
Where: Queen Elizabeth Olympic Park, London
Tickets: Adults from £10
Buy: www.theticketfactory.com
BMX Supercross World Cup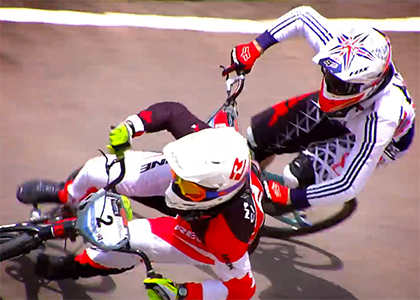 The fastest, bravest riders in the world will take the gate in the race for world supremacy and a prime placing at the world championships. Accelerating down the 8m high Supercross ramp around the professional indoor course, this is BMX racing at its most exhilarating and dangerous best.
When: 9-10 April
Where: Manchester
Tickets: Adults £20+ Concessions £12+
Buy: www.ticketmaster.co.uk
FIH Women's Champions Trophy Hockey
This will be the last opportunity to see some of the world's best hockey teams compete against one another before they head to the Rio 2016 Olympic Games. While hosts Great Britain, Champions Challenge winners, USA and reigning Olympic and World Champions Netherlands have already qualified, three more teams will be confirmed in December.
When: 18-26 Jun
Where:
Tickets: Adults £20+ Concessions £12+
Buy: gbhockey.seetickets
IAAF Diamond League
The 2016 outdoor season will kick off in style with the prestigious Birmingham Diamond League on Sunday 5 June. Part of the global IAAF Diamond League series, the event at the Alexander Stadium will attract the biggest names in athletics from across the globe.
When: 5 June
Where: Alexander Stadium, Birmingham
Tickets: Adults £20+ Concessions £15+
Buy: www.britishathletics.org.uk
London Anniversary Games
The iconic London Anniversary Games will return to the Queen Elizabeth Olympic Park for one of the world's biggest athletics events. Global stars will descend on the track and field for the iconic IAAF Diamond League meet on 22-23 July, and the IPC Grand Prix Final on 24 July.
When: 22-23-24 July
Where: Queen Elizabeth Stadium, London
Tickets: 22-23 July: Adults £20+ Concessions £15+. 24July: Adults & Concessions £10+
Buy: www.ticketmaster.co.uk
Danielle Sellwood, Sportsister
The Women's Sports Magazine
About Sportsister loves blog
Here at Sportsister we get inundated with news of new products every day so in this blog we will bring you some of our favourites. It's our guide to what's new…..what's good…..what works…..what's worth spending your money on…..what's fun….what's hot….what's special….Enjoy!

TO READ THIS BLOG IN FULL CLICK HERE
Select a sport
Find out how to get started, training plans and expert advice.