Christmas gifts for Sportsisters' – under £10
Here's our pick of the best sporty gifts under £10. Great for stocking fillers, secret santa or small, but perfectly formed pressies!
Sweaty Betty socks: £6 (or three for 15)


Despite socks being considered a duff Christmas pressie by many, we love a new pair, especially if they are as cool as these patterned ones by Sweaty Betty (other colourways available). They feature breathable, sweat-wicking fabric, a cushioned heel and toe and an ankle skimming ribbed cuff.
Buy: www.sweatybetty.com
Inova Microlight torch: £5.60
This great little torch fits on a keyring and is perfect for all sportsisters whether you're out on a night time run, need an emergency light for if your bike lights fail or simply just to light up the night! It has a tough polycarbonate construction and a multi-function switch function to easily toggle between the four modes.
Buy: www.millets.co.uk (other colourways available)
Bobbin compact bike bell: £6
All cyclists should have a bell. Whether it's warning pedestrians or other cyclists of your presence, a friendly ''Ring!Ring!' bell-tone is much nicer than a last minute shout or indeed a collision! Polite and considerate cycling for just £6 – we love the shiny red version.
Buy: www.bobbinbikes.co.uk
Asics Run Waistpack: £10


This is a total bargain at £10 (on sale). Ideal for anyone aiming to run longer distances this waistpack carries a good size bottle and has a zipped pocket for energy supplies or emergency cash.
Buy: www.sweatshop.co.uk
Activbod game changer face scrub: £7


This face scrub is a favourite in the Sportsister office – perfect after a sweaty or muddy training session. The dual action face scrub contains bio-available vitamin E to help reduce redness and micro-scrubbing particles, salicylic acid and sweet almond oil to cleanse pores, whilst menthol delivers a cooling soothing sensation to the skin. Squeaky clean and fresh – nice!
Buy: activbod.com
Kendal Mint Cake in a tin: £4
The original energy boost for adventurers, Kendal Mint Cake has been eaten on Everest and used throughout the world by hikers and climbers. We love it for pretty much any outdoor activity though, it's simple, tasty and cheap! You can buy a single 40g bar for 50p, but we love this retro tin containing two 85g bars.
Buy: www.cotswoldoutdoor.com
Ginger and French cycling mug: £10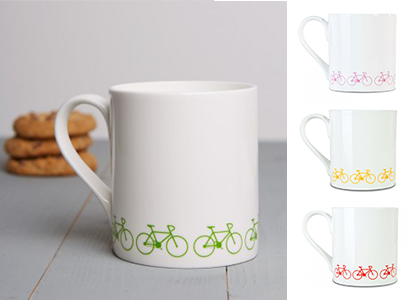 Pretty much all cyclists like a hot cuppa after a winter ride, so these mugs make a perfect gift! Available in seven colours, there's sure to be one to suit all tastes.
Buy: www.velovixen.com
H&M sport gym vest: £7
We featured the leggings from the great  value H&M Sport range in our gifts under £30 guide and this top is just as brilliant. Avaialble in a range of colours and prints it's a bargain for just £7.
Buy: www.hm.com
Danielle Sellwood, Sportsister
The Women's Sports Magazine
About Sportsister loves blog
Here at Sportsister we get inundated with news of new products every day so in this blog we will bring you some of our favourites. It's our guide to what's new…..what's good…..what works…..what's worth spending your money on…..what's fun….what's hot….what's special….Enjoy!

TO READ THIS BLOG IN FULL CLICK HERE
Select a sport
Find out how to get started, training plans and expert advice.