Rachel Atherton, "This year I have learnt a massive lesson about strength, inner strength, mental strength."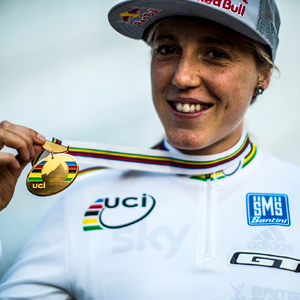 To the untrained eye the steep, rough terrain of downhill mountain biking is a hair-raising exercise in potential pitfalls. Between the start gate and the finish line are twists and turns, jumps, obstacles – natural and man-made – rocks and trees. Yet all the time the rider must keep control of the bike at speeds of up to 40mph.
To UCI World Cup champion and World Championship title holder Rachel Atherton, though, it offers exhilaration and embodies the essence of existence for the few minutes it takes to complete the course. "I just feel alive," she says. "You're not really thinking about anything but what you are doing in that exact moment, what your body is doing.
"You are so aware of your breath, every single part of your body you feel and you know what it is doing. I love it. That is why I race. I absolutely love racing. I live for those race runs when I feel that I am at my absolute most powerful and everything feels perfect. Your body is working. Your mind is sharp. It's amazing. It's such an incredible feeling."
Now 27, Atherton first enjoyed international success in 2004 when she finished second as a junior at the World Championships, before scaling the top of the podium a year later. She made the transition to the senior ranks and in 2008 secured the World Cup and World Championship double, an achievement she has repeated twice since.
For the Salisbury-born athlete, 2015 was especially fulfilling after illness wrecked last season. Lying in a hospital bed in South Africa, a drip in her arm, she wondered what was wrong. It turned out she had contracted glandular fever and the subsequent post-viral fatigue almost wiped her out.
She returned home and spent six weeks resting, tearfully questioning her future, fearing she might not even make it off the sofa, let alone race again. However, she returned and clawed her way back, finishing second to fellow Briton Manon Carpenter in both the 2014 World Cup and World Championship, the latter by an agonising 0.008secs for which Atherton berated herself for mistakes made on the latter part of the course.
Support was on hand in the shape of family, her brothers Gee and Dan especially in tune as professional cyclists themselves. "I've got no doubt I wouldn't have been able to bring myself back up to the top step this year without the support of my brothers and the team around me," she says.
"Winter training is hard work and emotionally draining and I wasn't sure if I was ready, if I was doing the right thing or if I should be recovering more. So I think I really annoyed the guys asking them their advice all the time. To have that unconditional truthful support. I remember my brother saying, 'If you don't want to do it, if you don't feel you can do it, then don't do it', and I was like, 'I do want to do it but it's just hard'."
Missing both the World Cup and the World Championship by one place was also a motivating factor, driving Atherton on to her return. Her confidence was low and she was racked by nerves. But return she did, coming second in the opening World Cup leg in Lourdes, France. After that she was never beaten, winning the remaining six legs to wrest back her title before the small matter of the World Championship in Andorra where she again topped the podium.
That is a day seared into her memory. "I can remember every single detail from the day. From waking up, the nerves, exactly what I ate, how many times I was sick, how many times my mechanic really had to get me going, just everything," she beams. "Every detail of the track. I can hear the timing beeps. I can hear the crowd cheering. I can feel the pain in my arms and my legs as I was racing. I can remember everything and I think I'll remember it to my last breath."
However, a year that started full of the anxiety became one of the most satisfying. "I'd say this year has blown all other years out of the water. It's been a massive emotional rollercoaster, highs and lows all the way through. But those highs were absolutely incredible, the lows were almost incredible as well because it lets you get back up there. If that was it for me I would be absolutely ecstatic. To have this year under my belt. I'm a happy person right now."
Sportsmen and women often say they learn more from adversity than success and that rings true of Atherton. "I think this year I have learnt a massive lesson about strength, inner strength, mental strength. I've learned a lot about myself this year. I struggled a lot mentally and I've figured out when you are unconfident and not sure, that is almost when you compete the best because you really dig deep, pull on everything and almost rise to a higher level. It's nice to know you have got it in you mentally. It was enjoyable in a horrible way. As an athlete you do enjoy pushing yourself, you enjoy the challenge.
"I've been racing World Cups for 10 years, but I'm glad that this year proved another challenge for me to overcome. To have that extra challenge, and to have to dig deep after all these years, it was pretty cool and I really enjoyed it."
Still revelling in this year's achievements, Atherton is not looking too far ahead to 2016. "At the moment I am enjoying the last year. It's so hectic when you are racing that you don't have time to take it all in. Now I'm feeling proud of myself. I am enjoying being at home and enjoying not racing, although I am really excited to start again.
"It will be a good challenge. That is what keeps riders going and keeps people competing. It's going to be good and I can't wait to see what the old body can do."
This article was first published on themixedzone.co.uk by Women's Sport Trust
Liz Byrnes, for the Mixed Zone
Sportsister, the women's  sports magazine
Rachel Atherton has been nominated for the BT Sport Action Woman of the Year 2015.
During the voting process for the BT Sport Action Woman of the Year, the Mixed Zone will be publishing exclusive interviews with all 10 contenders to help you make your choice.
The winner will be decided by public vote, which closes on Monday, November 23, and will be revealed live on the Action Woman of the Year Awards show, presented by Clare Balding on BT Sport 1, on Tuesday, December 1. 
For a full list of the 10 sportswomen in line for the prestigious title – and details of how to vote CLICK HERE.
Select a sport
Find out how to get started, training plans and expert advice.