Sarah Outen completes epic round-the-world journey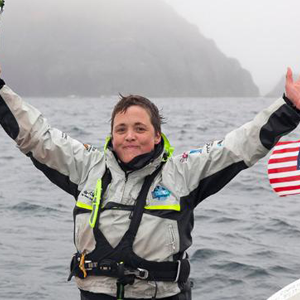 Adventurer Sarah Outen set out from Tower Bridge in April 2011 on her London2London: Via the World expedition. Her goal: to row, bike and kayak around the northern hemisphere, inspiring children and fundraising for charities. Yesterday Sarah completed her epic journey where she started at Tower Bridge in central London.
Sarah has overcome huge obstacles and endured extreme conditions in remote environments, often alone for months at a time. A typhoon on the North Pacific forced a mid Ocean rescue from her rowing boat in 2012 and a hurricane on the Atlantic this summer forced a pre-emptive evacuation after 143 days at sea. She has also kayaked some of the most treacherous waterways in the world and cycled across North America during one of the harshest Winters on record.
Finally, after 4.5 years and over 25000 miles, Sarah has completed the task. Read our previous reports about Sarah to learn more and if you would like to donate to Sarah's Charity appeal click here
British adventurer sets off on record-breaking solo row across the North Pacific Ocean
Christmas gift guide: Best sports books
Like 'Wild' but wilder, meet Sarah Outen
Sportsister
The Women's Sports Magazine
Select a sport
Find out how to get started, training plans and expert advice.