Support: She's Got Grit digital series
The beauty of the internet is that we can share and watch great things that are happening all around the world – the latest initiative we love is She's Got Grit, a digital series about female athletes with disabilities that is raising funding on Indigogo.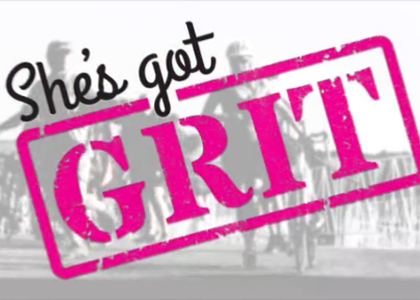 She's Got Grit
is a digital series about female athletes with disabilities who compete at the highest levels. Each episode of She's Got Grit is unique. Some episodes profile the life, training, support networks, and philosophy of an individual athlete. Others feature an honest discussion about what it means to live with and compete with a disability in our culture.
The athletes in this series embrace their power and live it every day. Their journeys are not easy, but they are triumphant. These women repeatedly stare adversity in the face and transform it.
She's Got Grit is led by series creator, Dara Padwo-Audick, a seasoned and award-winning producer and hosted by Tricia Downing and Nicole DeBoom. Tricia Downings life changed forever on September 17, 2000, when she went from being a competitive cyclist to a paraplegic requiring a wheelchair for mobility. Without skipping a beat, Tricia jumped back into the athletic world, competing in triathlons and becoming the first paraplegic to complete an Iron distance triathlon.
As a semi-professional athlete with a disability, Tricia is excited about educating people about disability and about what it takes to compete at the highest level in sport. Co-host, Nicole DeBoom, is the founder of Skirt Sports and former professional triathlete.
Find out more and support here: www.indiegogo.com
Danielle Sellwood, Sportsister
The Women's Sports Magazine
Select a sport
Find out how to get started, training plans and expert advice.