Event review: Maria tries Red Bull Foxhunt
Many of you may know Rachel Atherton is a 3-time World Downhill Mountain Bike Champion. Few of you will know my credentials as a downhill mountain biker. In short, I have none!
Nevertheless, in the spirit of adventure I made the trip up to the Pentland Hills, outside Edinburgh to be a "hound" at the Red Bull Foxhunt and try to stay ahead Rachel Atherton!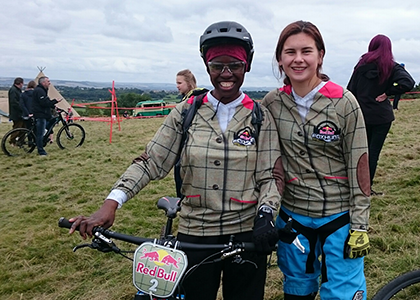 Maria David (left) with fellow rider Maya

The Course
Imagine a reverse fox hunt where the fox chases down the hounds who have 400m head start! Add mountain bikes and that's the Red Bull Foxhunt.
At the top of a hill, with the Firth of Forth as the backdrop stood a horse with rider, around 150 "hounds" aka women on mountain bikes, and a fox in the shape of recently crowned world champion Rachel Atherton.
So, this race was from the top of Caerketton hill, 478m down a twisting course through heather, over rutted trails, through woods and on grass. There were obstacles such as BMX-style berms, a table top, short sharp mounds and steep drop offs that made it like wacky races!
I was grateful of the "B" lines set out for those of us preferring to take the easier route around the obstacles.
Also, thanks to the good people at Alpine Bikes, who hire out mountain bikes at the nearby Glentress mountain bike trail centre, I was kitted out with a suitable bike.
The Atmosphere
Arriving at the camp with all the gear and no idea! I wondered "What the hell was I doing here?!" Although I had travelled there alone I found the environment very welcoming and friendly.
The women, who had come from all parts of the UK and beyond were keen to strike up conversation and get to know each other. "So, where do you ride? Cannock Chase? Sherwood Pines? Swinley Forest?" I kept getting asked. Er, up the Zig Zag at Box Hill on my road bike and a bit of cyclo cross. "Oh, you're very brave." Would come the reply!
I felt even more nervous after the briefing from Rachel herself, when, although very encouraging, she didn't omit to say how she had decided to make this year's course more challenging than last year's and with more technical downhill sections. Yikes!
The Race
Downhill races are usually based on riders setting off one at a time and being timed, like in downhill skiing. However, for the Foxhunt all 150 women set off at once.
Most of the course was wide enough to allow overtaking. In any case as we were gridded the faster riders were out of sight by the time those of us at the back got going! There were still a couple of pinch points though, notably on a short sharp hill where folks fell over causing a traffic jam and many of us, including Rachel Atherton had to go up the hill on foot.
Practice runs prior to the main race had been helpful for deciding what line to take. My first run was a mess.
I could feel that my bike wanted to get moving along the bumpy sections but my nervousness meant I seized the brakes for dear life and took a couple of slow motion tumbles simply through loss of momentum when trying to roll over the grass tussocks and heather.
Once the early tricky sections were out of the way I relaxed and began to enjoy the speed as my steed bounced over the terrain. I even began to feel like a downhiller – though my times indicated that I wasn't!
During the race I was caught by Rachel Atherton (who finished 35th) about 40 seconds in! A group of us brought up the rear nicely, finishing over four minutes behind the winner, Bex Baraona who descended in under four minutes.
Nevertheless, it was the best fun I've had on a bike!
Event Feedback
Bex Baraona (below left), Overall winner
"I am pretty used to the racing environment but it is different to be with 150 women when it's normally just about 300 men and only 10 or 15 women. My tactic was to just get off the start line as quick as I could. I knew if I got in front I could probably hold it that way for the rest of the race. Compared with other events I do, this is really chilled. Everyone has just been laughing and joking."
Rebecca Wylie (above right), Novice downhill rider
"I got into mountain biking when I came to watch my sister do Foxhunt last year. It looked amazing so I decided to have a go this year. My sister has been helping me and giving me tips. I took my time coming down the track but I really enjoyed the whole event."
Gill Harris, Atherton Racing
"There's loads of girls here who haven't raced before and the thing I really like is there are loads of mums who are racing with their daughters. These are ladies in their 40s and 50s going for it with their 16 and 17-year old daughters and they are just having the best time. The whole thing about Foxhunt is anybody is really welcome. Lots of people have said to me "actually if I ride with guys I feel like I have to get out of their way" whereas this weekend I have seen lots of the more experienced riders coaching the less experienced riders."
Rachel Atherton (The Fox), World Downhill Champion
"I was so impressed with all the girls. Everyone stepped up and rode the track, which is the main thing. I think the whole vibe with Foxhunt is that it's a race but it's pretty relaxed. I think a lot of girls get put off by the men at races so this is a good stepping stone. A lot of girls now are gonna enter normal races so I'm pretty happy with it. I definitely wasn't riding as hard as I do at the World Cup. I just wanted to enjoy it. To anyone who would like to have a go, I'd say just come and give it a try. You can do the practice runs and if you don't wanna do the main race that's fine.
Thanks to Atherton Racing and Red Bull for putting on a great weekend which came complete with generous uplifts to the summit from the Jeeps and the buggies, evening entertainment and yoga!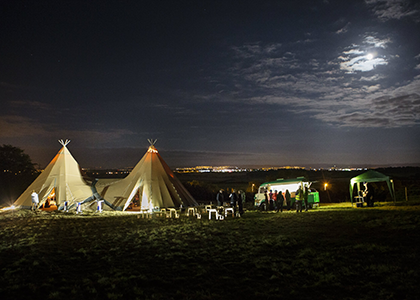 I am also grateful to Alpine Bikes who lent me a Trek Remedy bike – its suspension, "reverb" adjustable saddle and comfort more than compensated for my lack of downhilling skills!
Do you want to try this event?
Footage from Rachel Atherton's GoPro will give you an idea of the course
The race will take place next year, possibly at a different venue. Check the Red Bull website for more details.
Maria David, Sportsister
The Women's Sports Magazine
Check out Maria's blog on : www.2wheelchick.blogspot.com
Select a sport
Find out how to get started, training plans and expert advice.