BBC commentator Sonja McLaughlan previews the World Athletics Championships
The World Athletics Championships kick off in Beijing on Saturday and it promises to be an exciting event for TeamGB as we see seasoned athletes and up and coming new stars aim for the medal podium. Ignore the politics for now and get behind the amazing athletes that Sonja McLaughlan, the BBC's athletics commentator is tipping for the top.
"This year, being one year out from Rio is really significant, after these championships we will get a real indication of how TeamGB stands and where the medal prospects are. We've got a great team of experienced women with some rising stars too.
In many ways this is a test event for Rio and the stadium in Beijing is incredible so it is set to be a great event. According to the IAAF most of the tickets have been sold out, the Chinese will turn out in force to support the event in this iconic stadium so we're hopeful of a good atmosphere."
Medal chances
"Look no further than the first morning, in fact the first event of the whole competition is the 100m hurdles part of the Heptathlon. So we shall see Jessica Ennis-Hill (pictured below) make her first appearance on a world stage since she won gold in London in 2012.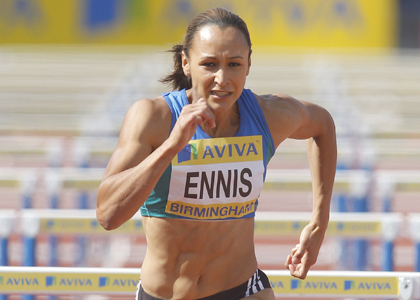 She made a very late call as to whether she would go to Beijing, and she wouldn't have gone if she didn't think she had a realistic chance of getting a medal. She had three seasons best's at the Anniversary Games, so she's coming into form and rediscovering her speed in particular.
We've also got Katarina Johnson-Thompson (pictured below), she's been carrying a bit of an injury and missed last season so she's a bit of an unknown quantity at the moment. But if you look at their personal bests, Jess is on 6955 points and KJT is 6682 so not far behind when at her best.
I think it's going to be a really close competition, Canada's Brianne Theisen-Eaton, the winner in Götzis, is marginally the favourite so come the 800m on Sunday evening I think we will be sat on the edge of our seats "
"Christine Ohuruogu (pictured below) is an interesting prospect, she's a master of timing her season perfectly and getting to the start-line in the best shape. She goes in as the defending champion having beaten Amantle Montsho in a photo finish in Moscow last year. She's already won the title twice, which is a rare feat in itself and she has an Olympic gold medal from this very stadium, so she's got to be one to watch.
Again there is a little question over her form as she recently split from her coach, which was reportedly very unsettling, but I would never underestimate her ability to perform at this level."
The women's sprint relay is also looking really great; they are seriously the real deal and could come away with a medal. It's going to be very exciting, we obviously expect the USA and Jamaica to be strong, but the Brits won't be far away from that, with the likes of Dina Asher-Smith, Bianca Williams and Asha Philip all running great times individually, I can't wait."
Emerging stars
"Dina Asher-Smith (pictured below), has had a meteoric rise and is clearly a massive talent. This summer she was the first British woman to go sub 11 seconds for the 100m, so she's on great form. She's definitely put herself on the map, but then she surprised us all by opting to only run in the 200m. We're not sure why, but it's probably because she stands the best chance of getting to the final in the 200m.
I don't think we should put medals around her neck yet – at this stage she will be aiming for a finals place and then we'll see what happens."
"Isobel Pooley is also an exciting prospect, she's only 22 but has really broken through this year and is on great form having jumped 1.97 in the trials. She's got a real chance of getting in the mix, especially since it is such a technical event – if she gets it right she's in with a chance. The leading jump this year is 2.03, which Anna Chicherova set in Lausanne in July, so Isobel is not a million miles away.
It's also worth mentioning that we've got some strong, world class athletes in the field events this year with Goldie Sayers (pictured above) back in the javelin and Holly Bleasdale in the pole vault as well as of course Isobel Pooley, so look out for them all."
International star to watch
"The stand out for me has to be Genzebe Dibaba who broke the world record for the 1500m in Monaco back in July. It was an incredible run as the record had stood for 23 years and many thought it would never be beaten. She really made everyone sit up and take notice – It was one of those runs that made even Steve Cram breathless and he has seen it all.
No woman has ever won the 1500 and 5000m at the same event, so if she enters both she could do the double and make history. Genzebe is the little sister of Tirunesh Dibaba who has three Olympic titles to her name (10,000m and 5,000m), but Genzebe doesn't have a world title of her own yet, so this could be her moment.
What's also really exciting about the 1,500 is that we have two strong British women in the same race, Laura Muir and Laura Weightman (pictured above). Laura Muir has the second fastest British time behind Kelly Holmes and is having a great year with the fifth best time in the world this year, and Laura Weightman won a bronze in the European Championships last year."
Danielle Sellwood, Sportsister
The Women's Sports Magazine
Sonja McLaughlan will be reporting for Radio 5 live at the World Athletics Championships in Beijing which will be exclusively live on the BBC across tv, radio and online from Saturday 22 August.
Click here for the full schedule of BBC coverage
Click here for the IAAF events schedule
Select a sport
Find out how to get started, training plans and expert advice.